MSNBC Guests Frustrated Paula Deen Scandal Distracts From Racism Of 'Cleveland Indians,' 'Aunt Jemima'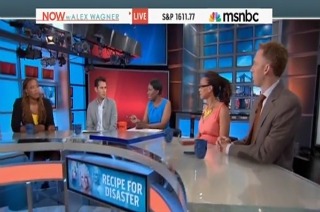 Former Food Network star Paula Deen's dismissal from her job after she testified in a court deposition that she had used racial slurs in the past frustrated an MSNBC panel on Friday. Not because Deen's firing has resulted in a spike in sales of her books from her supporters, though that was a part of it. The panel was upset because the Deen scandal distracts from so many other racist aspects of American life – from the Cleveland Indian's mascot to the Washington Redskins name to Aunt Jemima breakfast products.

RELATED: Paula Deen Book Sales Surge Following N-Word Controversy
The host and guests of MSNBC's Now wondered if Deen was "old enough" to understand that you cannot in modern American life fantasize about holding a "plantation wedding" or, as Deen did in a past interview, comment on a black friend's level of darkness.
"I actually have a little problem with the fact that the right is going to use this to say that, you know, 'here's another victim of the, sort of, you know, black backlash,'" said Demos Vice President Heather McGhee. "Actually, what it does is it sets up that what racism is now is just using the 'n-word,' and in fact there is so much more that is racist today in our way that corporations have power in the country to do things like, you know, ALEC and voter ID laws."
"There is so much more that is structural and unconscious about racism that isn't just a Southern woman using the 'n-word' among her friends," she added.
"I could understand why she'd be confused given the Aunt Jemima box and given the Popeye's – like, it's also to say that there's a weird way in which she becomes the thing onto which we can cast all of our anxiety," MSNBC host Melissa Harris-Perry agreed. "Because then we don't have to cope with fact that the Cleveland Indians have a sambo Indian as their identity, and that the Washington Redskins are using the language of redskin, and that Aunt Jemima may have a perm but it's still selling pancakes and this Southern mystique though food."
Harris-Perry said that Deen may be genuinely confused about what constitutes racism when "we accept so much racism in our food industry."
Watch the clip below via MSNBC:
> >Follow Noah Rothman (@NoahCRothman) on Twitter
Have a tip we should know? [email protected]