MSNBC Guests Spar Over Susan Rice's New Job: Obama 'Owed' Her After She Was 'Trashed On His Behalf'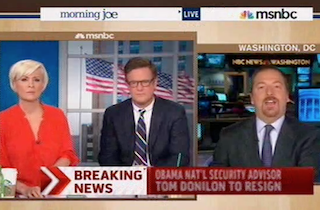 News of Susan Rice replacing Tom Donilon, who resigned as national security adviser, broke during Morning Joe on Wednesday — prompting Joe Scarborough & Company to provide reaction. The roundtable disagreed over Republican reaction and how Rice will fare, while Tina Brown argued President Obama "owed" Rice after she took a harsh round of criticism over Benghazi.
"This is the president saying, 'I'm in my second term and I'm going to do whatever I want to do,'" Scarborough asserted. If not secretary of state (for which Rice withdrew her name), Chuck Todd said it was expected Rice would get a job in the West Wing. She's "a comfort pick." Scarborough, however, expected sound and fury from Republicans.
The Washington Post's Eugene Robinson said GOP outrage wouldn't amount to anything and it's the president' prerogative to choose a person for the role. The Sunday show outrage following Benghazi, Brown added, appears only to have created a deeper bond between Obama and Rice.
"I think he felt he owed her this even more, that he wanted to do this and she was trashed on his behalf," she argued. "She behaved eloquently over that and didn't whine about it and did it with fortitude — and now she gets her reward."
But it will cause a "deeper divide" between Obama and his opponents, Scarborough argued — which Todd disagreed with. Rice is hawkish and an interventionist, he noted. Talking points controversy aside, Sens. John McCain (R-AZ) and Lindsey Graham (R-SC) will be happy to work alongside her.
Their foreign policy visions are aligned, Robinson agreed. "I think this is the beginning of a beautiful friendship," he predicted.
Take a look, via MSNBC:

Have a tip we should know? [email protected]