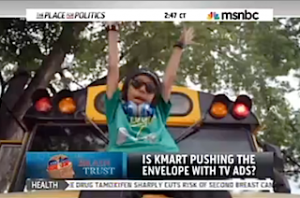 Saturday afternoon, MSNBC host Craig Melvin introduced a story about a Minneapolis-based group of rapping kids, who previously brought the world the massively popular "Hot Cheetos and Takis" song and music video. The group, formally known as Y.N. RichKids, now Da Rich Kidzz, have landed themselves a national back-to-school TV commercial from Kmart that has apparently been causing some controversy on Twitter.
Melvin read off some tweets from viewers who accused Kmart of "racially profiling" black kids by implying that all they do is "rap and dance," calling the ad "belittling and deplorable." Without naming names, he said some of his colleagues at MSNBC had expressed similar sentiments.
"Everybody needs to calm down," The Grio's Zerlina Maxwell said. "This commercial is cute. They're rapping about school, this is a good thing right?" She added, "If hoodies and rapping makes you think we're stereotyping black people, you either haven't been paying attention for the past 20 year, because consumers of hip hop are a majority white. And also, if a hoodie means thug to you, then you might have to reflect back on why that is."
The Blaze's Amy Holmes, who typically resides on the opposite end of the political spectrum, wholeheartedly agreed. She asked, "Why are we messing it up for these kids? They made a fantastic video. They're obviously talented, adorable. Getting a national campaign ad is a huge success and a huge accomplishment, and we should be applauding these kids. They're rapping about how much they love school."
Finally, syndicated columnist Bob Franken, the only non-African-American on the panel jumped in, asking, facetiously, "How dare they be black? First of all, rap is hardly just a black genre these days. But again, everybody gets totally crazed about anything racial or even the possibility that it's racial." He referenced the Cheerios commercial featuring a mixed-race couple, which received a different kind of backlash from viewers, as another example.
Watch video below, via MSNBC:
[photo via screengrab]
—
>> Follow Matt Wilstein (@TheMattWilstein) on Twitter
Have a tip we should know? tips@mediaite.com