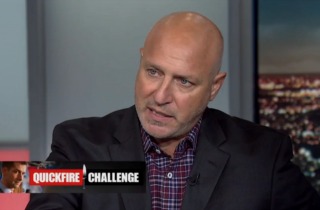 MSNBC announced Wednesday morning that award-winning celebrity chef Tom Colicchio will join the network as its first-ever "food correspondent," hosting a show on MSNBC's digital platform discussing "smart food" policy.
In a memo to MSNBC staff, network chief Phil Griffin wrote that Colicchio's work will focus on how "food is an essential – yet underreported – part of our cultural and political debate." He will report regularly to cable shows like Morning Joe and The Rachel Maddow Show, in addition to hosting a series for Shift — MSNBC's digital network — called "Stirring the Pot."
The chef, best-known for his role as lead judge on Bravo's Top Chef, will also "host a series of interviews over lunch with a wide range of newsmakers, including athletes, elected officials, actors and star chefs."
Interesting, in his note Griffin asserted that Colicchio's hiring is a step forward for the network's efforts to cover more issues, while doing so "through our progressive lens." The MSNBC press release reiterated that sentiment, touting how "Colicchio's new role is part of MSNBC's larger strategy to cover a broader set of stories that move and inspire Americans through its progressive lens."
For those not familiar with Colicchio, a quick bio: In addition to his Top Chef role, he has opened multiple fine-dining restaurants (Gramercy Tavern, Craft, etc.) that have won numerous accolades from esteemed publications. He is also the author of several cookbooks and the winner of the James Beard Foundation's 2010 "Outstanding Chef" award. Colicchio also executive produced A Place at the Table, a 2013 documentary about food insecurity in America.
Might this be seen as MSNBC pulling a CNN by hiring the more academic version of Anthony Bourdain?
Watch video below of Colicchio talking politics with Chris Hayes shortly before the 2014 midterms:
— —
Have a tip we should know? tips@mediaite.com