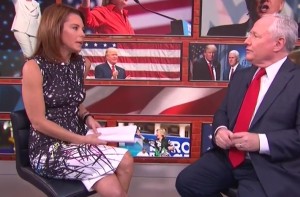 MSNBC host Stephanie Ruhle complained Thursday that Democratic presidential candidate Hillary Clinton was being treated unfairly by the media, saying there was a "double standard" where she received more negative coverage than Donald Trump.
Conservative The Weekly Standard founder Bill Kristol argued that Clinton's support remained paltry because she spent too much time attacking Trump instead of articulating her own case for the presidency. "The whole Clinton campaign and the liberal media and everyone else has been totally obsessed with disqualifying Donald Trump," he said.
"I dislike Donald Trump. I don't think he should be president of the United States," he continued. "But I think most of that information is out there. The fact that he's fifteen pounds overweight is not going to cause people to vote against him."
Ruhle didn't care for that argument one bit. "Hold on, is it fair to just say and dismiss the liberal media is out there trying to make a case against Donald Trump?" she asked. "The media was front and center Sunday morning playing it over and over and over when Hillary Clinton tripped."
"She faces a double standard every day right, left, and center," Ruhle complained. "Is it fair to continue the narrative, it's that liberal media just going after Donald?"
"She did trip or faint or swoon or whatever happened or stumbled. She has pneumonia," Kristol pointed out.
"He has done things that are reprehensible," Ruhle retorted.
"I totally agree with that. I think most people know that… the media is playing into Trump's hands inadvertently," he argued.
Kristol added that while he thought the health question was a "phony issue" for both candidates, their situations were not analogous. "When you have a discussion about health, there's not a single American who is going to vote against Trump because he's 15 pounds overweight. He's not the one who collapsed on 9/11, right?"
[Image via screengrab]
——
>>Follow Alex Griswold (@HashtagGriswold) on Twitter
Have a tip we should know? tips@mediaite.com