MSNBC Host Defends Liberals Who Trust Obama With Drones: Would You Trust Bush With Nuclear Codes?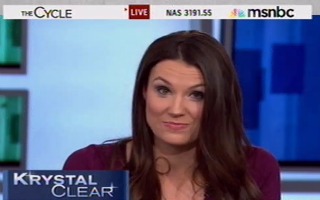 MSNBC's co-host of The Cycle, Krystal Ball, took on the notion circulating in the media that liberal supporters of President Barack Obama are engaging in hypocrisy when they defend the executive's authority to execute drone strikes on Americans overseas. Some claim that they would never support this power if the president were a Republican. Ball agreed with this point, conceding that she would not support President George W. Bush having this authority. However, she said that Obama is a "fundamentally responsible actor" while Bush regularly "displayed extraordinarily lapses in judgment."

RELATED: Fox Liberal Contributor Kirsten Powers Rips Obama And Other Liberals For Supporting Drone 'Kill List'
Ball said that she did harbor some reservations about the way in which the drone program has been administered by the Obama administration. Overall, however, she said that she is comfortable with Obama having the authority to execute American citizens overseas extra-judicially.
She said she took particular issue with the charge, which Ball says is being made mostly on the right, that if you feel differently about Obama's authority to kill Americans than you would about Bush, you are a hypocrite.
"How would you feel about a Madeline Albright panel about women and body image?" Ball asked hypothetically. "Now, how do you feel about the Larry Flynt panel on women and body image?"
"How do you feel about your kid in Dr. Ruth [Westheimer]'s sex-ed class versus Todd Akins?" Ball continued. "Do you feel different about Warren Buffet setting standards for financial ethics versus Bernie Madoff?"
"Of course you do, because you're normal," Ball declared.
"I voted for President Obama because I trust his values and his judgment, and I believe that he is a fundamentally responsible actor," she added. "Without gratuitously slamming ex-President Bush, I think he displayed extraordinary lapses in judgment in executing his primary responsibility as commander-in-chief, and put troops in harm's way imprudently."
"President Obama would have exercised better judgment and he has exercised better judgment," Ball said. "What would George W. Bush do? That's our standard? We would never allow a power to the presidency that we wouldn't feel comfortable giving to George W. Bush?"
Ball said that, for perspective, Obama has the "unilateral power to drop nuclear bombs and destroy the entire planet."
"Do you feel the same about George W. Bush having the nuclear codes as you do about President Obama?" Ball asked in conclusion. "Call me a hypocrite, but I sure don't."
Watch this segment below via MSNBC:
> >Follow Noah Rothman (@NoahCRothman) on Twitter
Have a tip we should know? tips@mediaite.com