MSNBC Host: GOP Leader's 'Dripping Virginia Drawl' Makes Support For Domestic Violence Law 'Unconvincing'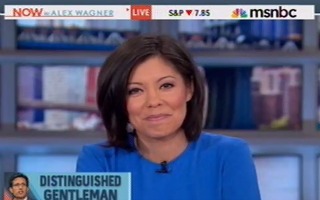 On Thursday, MSNBC host Alex Wagner and her panel guests deconstructed the ongoing legislative fight that has prevented Congress from passing a version of the expired Violence Against Women Act. After identifying the complex objections that some House members have to a version of the bill that enjoys broad support in the Senate, Wagner noted that even some Republican leaders, like House Majority Leader Rep. Eric Cantor (R-VA), have voiced their support for some form of a VAWA. However, she said that Cantor's Southern accent make her doubt his sincerity.

RELATED: Senate Dems Use Violence Against Women Act To Further Republican 'War On Women'
Huffington Post reporter Sam Stein said that some aspects of the Senate-backed VAWA are unpalatable to many House members – such as provisions for illegal immigrants. He observed, though, that House Republicans are more wary of the political reprecussions that could result from not passing any domestic violence legislation. "Just make a move," Stein advised GOP House leadership, saying that if they brought the Senate bill to the floor for a vote it is likely to pass.
Wagner played a clip of Cantor on the House floor lamenting the aspects of the bill that have given the House Republican conference pause in passing the VAWA. In the clip, Cantor made it clear that the House does want to ensure that the groups named in the Senate bill receive appropriate protections from domestic violence.
Wagner said that Cantor's support for the basic tenets VAWA is disingenuous, and his accent does his credibility no favors:
I just think you shouldn't have Eric Cantor and his, sort of, dripping Virginia drawl, which – and he has been a major roadblock to this seeing the light of day on the House floor – it's so unconvincing that they are really making violence against women, abuse directed at women, a priority with that kind of rhetoric and these kind of optics.
Watch the clip below via MSNBC:
> >Follow Noah Rothman (@NoahCRothman) on Twitter
Have a tip we should know? tips@mediaite.com