MSNBC Host: If GOP So Concerned About IRS Scandal, Why Didn't Mitt Romney Bring It Up In 2012?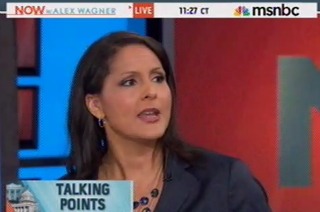 Former Democratic National Committee spokesperson and future MSNBC weekend host Karen Finney scolded a reporter who on Now this afternoon suggested that the White House may have overestimated how effective claiming that Republicans investigating a series of scandals were on a witch-hunt would be. In return, she asked if the GOP was genuinely concerned about the Obama administration's scandals including the IRS's targeting of right-leaning groups, then why didn't Mitt Romney bring the issue up during the campaign?

"One thing that we've seen over the last couple days is the degree to which the White House seems to have internalized the narrative that the Republicans are out on a witch-hunt and the degree to which they think they can sell that," said New York Magazine reporter Benjamin Wallace-Wells.
He said that this condition was typified by the administration's decision to send a communications staffer out on the Sunday shows rather than a policy official.
"They may have over-bet on this aggressive push back on this idea that there is a Republican witch-hunt," Wallace-Wells added.
RELATED: 'I Have Not Done Anything Wrong': IRS Official Lois Lerner Pleads The Fifth, Gets Dismissed From Scandal Hearing
Finney objected to this characterization. "There's something about this that I find stunning," she said. "Everybody knew about this investigation long before the election. So if they were that freaked out about it, why didn't Romney make more of a big deal of it during the election?"
"It wasn't confirmed yet," interjected National Journal editorial director Ron Fournier. "This is a big deal. Period."
"Come on," Finney shot back. "There was an opportunity to talk about this before the election." She said that the notion that the White House was trying to cover the IRS scandal up strikes her as unfounded.
Finney added that she was frustrated by Republicans calling out the White House over a "culture of corruption" because the DNC pioneered that line of attack against the Bush administration in 2005-2006. She noted that the phrase related to do with untruths about WMD in Iraq and the outing a CIA agent in the press. "We weren't talking about bureaucrats making really stupid decisions," Finney concluded.
Watch the clip below via MSNBC:
> >Follow Noah Rothman (@NoahCRothman) on Twitter
Have a tip we should know? tips@mediaite.com