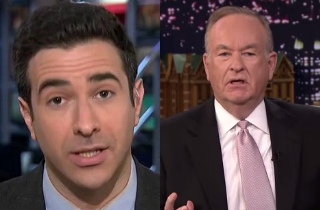 During a discussion about a New York grand jury's decision not to indict the officer who killed Eric Garner with a chokehold on MSNBC Wednesday afternoon, The Cycle co-host Ari Melber found himself unexpectedly agreeing with at least one thing Fox News' Bill O'Reilly has said over the last week in regards to protests that followed a similar decision in Ferguson, Missouri.
Speaking about the large-scale demonstration that followed the grand jury decision not to indict Officer Darren Wilson for the shooting death of Michael Brown, Melber highlighted the value of a national conversation — not necessarily about race, but about policing. "Something the president talked about, something even conservatives talked about, something that Bill O'Reilly said the other day," he said. "'Of course people are protesting,' Bill O'Reilly said, 'because that's how you change things.'"
"I think that's absolutely right," Krystal Ball replied. "The significance and substance of those protests, those peaceful protests, has been encouraging."
But Touré lamented that with the protests we are just "talking about talking" and not about actually "doing anything" to change the status quo.
Those comments from O'Reilly did not come on his nightly Fox News show, where he has been decidedly more critical of the response to Ferguson, but instead on the Tonight Show with Jimmy Fallon. "Things don't change in this country unless you protest," he said last week. "They don't get better unless you protest. So we want that… But don't burn down somebody's store."
Watch video below, via MSNBC:
And watch O'Reilly's comments below, via NBC:
[Photo via screengrab]
— —
>> Follow Matt Wilstein (@TheMattWilstein) on Twitter
Have a tip we should know? tips@mediaite.com