MSNBC Hosts Mounting Last-Ditch Effort to Boost Chris Christie's Dem Opponent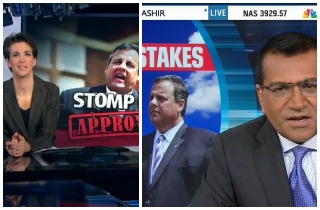 With just days left in the race for New Jersey governor, some MSNBC hosts have mounted a dutiful and perfunctory effort to raise the profile of Gov. Chris Christie's Democratic opponent, state Sen. Barbara Buono (D-Middlesex). Their efforts are as halfhearted as you would expect.

On Tuesday, MSNBC host Martin Bashir invited Buono on the program to stump and denigrate her opponent. To his credit, and with the exception of his trademark digs and insults directed at anyone with an "R" after their name, Bashir played this interview relatively straight. He was quick to call out Buono when she failed to answer his questions directly and he did not gloss over the fact that her electoral loss was virtually assured.
A slightly more committed anti-Christie tone was struck by MSNBC's flagship host Rachel Maddow on Monday night.
Puzzled by the fact that the Newark Star-Ledger, a paper with a distinctly liberal editorial bent, came out and endorsed the governor for reelection, Maddow tore into what she called the paper's "praising with robust damnation."
"We hate him but it's all you got, New Jersey," Maddow said, summarizing the gist of the Star-Ledger's endorsement which devoted the majority of its space to criticizing Christie before asserting that his Democratic opponent would not be a suitable replacement.
"This is the weirdest newspaper endorsement I have ever seen. What a truly bizarre decision," she continued. Maddow has a point. The paper called Christie's budget "fraudulent" and the governor himself "overrated." Nevertheless, the paper's editorial board decided it was in their best interest to back the inevitable winner in next month's election rather than attempt to prop up an meager opponent (indeed, the editorial board savaged the New Jersey Democratic Party for fielding such a weak candidate).
In a sign of latent momentum for Buono, Maddow noted that the Democratic candidate's supporters took to the offices NJ.Com (the Star-Ledger's online portal) in Morristown, New Jersey, where they etched anti-Ledger messages in chalk on the sidewalk in protest of the endorsement.
Talk about inspiring. Much like Christie's decision to abandon the effort to forestall the legalization of gay marriage in New Jersey, the Star-Ledger simply decided to cut their losses. It's a move MSNBC lectured Republicans that they should have adopted over the entire course of the government shutdown.
But 2013 is far from a lost year for Democrats. They can cheer the far-left Bill DeBlasio's imminent elevation to Gracie Mansion and former DNC chairman (during the banner Democratic years of 2001 – 2005) Terry McAuliffe's likely ascension to the governor's mansion in Virginia. Both investments are, however, likely to yield strikingly diminishing returns in 2014.
[Photo via screen grab ]
— —
> >Follow Noah Rothman (@NoahCRothman) on Twitter
Have a tip we should know? tips@mediaite.com