MSNBC Hosts Rationalize Dem Losses: Not Standing with Obama Is 'Not a Good Look'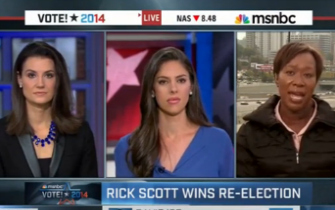 Following what can only be considered a GOP electoral wave on Tuesday, MSNBC's more liberal hosts sought to understand how the Democrats could suffer such extraordinary losses.
Wednesday morning, for instance, on Jose Diaz-Balart's post-election show, MSNBC hosts Krystal Ball and Joy Reid refused to think the electorate rejected the president, instead suggesting Democrats brought defeat upon themselves by failing to sell a "popular" progressive agenda to voters.
Ball placed blame on southern Democratic candidates — Alison Lundergan Grimes, Mark Pryor, and Michelle Nunn — who "tempered" their agenda to distance themselves from President Barack Obama. "It doesn't do enough to get your folks out if you're saying you don't support the Democratic president," she said.
Ball added that the losses seem to have come despite liberal issues polling well with voters. "When you look at progressive issues on the ballot, and also in terms behalf people said they care about in exit polls," she noted, "the progressive agenda is very popular. But many of these candidates really fail to make the case for what the Democratic vision of this country is and how we're going to ultimately get there."
Joy Reid echoed that sentiment, telling Diaz-Balart that the Florida's incumbent Republican Gov. Rick Scott defeated his challenger despite being "not popular." How? Because the Democrats fell short in explaining to the "checkbook electorate of women" that this administration has cut the unemployment rate.
"If you can't make the case for the economic progress your president has made, and you can't stand behind him," she said, "I hate to tell you, but the strongest electorate for Democrats is black women, they strongly support the president."
Reid concluded: "Not standing with your own president and policies: Not a good look when it's a base election."
Watch below, via MSNBC:
— —
>> Follow Andrew Kirell (@AndrewKirell) on Twitter
Have a tip we should know? tips@mediaite.com