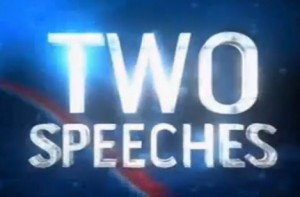 Thursday afternoon turned out to be an embarrassment of riches for presidential campaign speech junkies (you know who you are), with Republican nominee Mitt Romney delivering remarks at about 1:40 pm in Cincinnati, Ohio, followed by President Obama's Cleveland speech at around 2 pm. Unfortunately, CNN and Fox News opted to give only partial doses of the two speeches, while MSNBC provided the full fix. Now, they're running an ad touting their thoroughness.
CNN covered about ten minutes of Mitt Romney's 17-minute speech, and about the same of President Obama's nearly hour-long remarks. Fox News aired about five minutes of each.
Apparently, CNN was taking some heat on Twitter for their decision to cut away from President Obama's speech, since anchor Brooke Baldwin felt the need to tweet "Reminder: we aired 10 minutes of Mitt Romney's speech; we give the Pres equal time. Can keep watching Pres Obama on http://cnn.com !"
MSNBC, however, aired both speeches in their entirety, and Thursday night, ran this ad touting their coverage:
The ad is a smart way to capitalize on a major difference between competitors, and the fact that the two rivals were giving dueling speeches from the same battleground state makes it tough for Fox News or CNN to make the case that they weren't newsworthy.
On the other hand, both Fox News and CNN threw their live feeds of both speeches to the web, where, presumably, most political junkies would be able to see them. MSNBC's ad, though, is sure to please supporters of the President, who were likely rankled by the suggestion that he's somehow on equal footing with Mitt Romney, while Romney supporters are unlikely to switch to MSNBC anyway.
Have a tip we should know? tips@mediaite.com