MSNBC: Journalist Who Slammed Network's Palestine Coverage No Longer a Contributor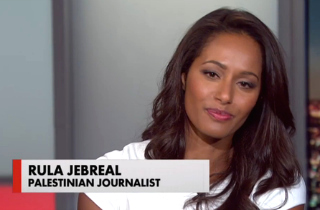 The journalist who criticized the network's lack of Palestinian voices stopped being a contributor to the network last month, MSNBC said Wednesday in a statement.
Rula Jebreal made waves earlier this week when she appeared on MSNBC and bemoaned the company's "disgustingly biased" coverage for lacking Palestinian voices.
Following that segment, Jebreal announced on Twitter that her upcoming appearance on the network had been cancelled, leaving some to wonder whether the network had severed ties with her in response to her comments.
MSNBC had the following to say about that:
Regarding the claim of cancelled appearances: Jebreal's pre-booked daytime appearance on Tuesday was bumped to accommodate the re-airing of Chris Hayes' exclusive interview with Tariq Abu Khdeir, a 15 year old Palestinian American beaten by Israeli forces. Jebreal was a guest on "All In" with Chris Hayes on Tuesday night.
Indeed, as the network noted, Jebreal returned Tuesday evening for a serious conversation with Chris Hayes about the Israeli conflict and media coverage.
Viewers did notice a change in her bio, however:
before and after of @rulajebreal pic.twitter.com/jnmkdlXUXX v @WideAsleepNima

— SubMedina (@SubMedina) July 23, 2014
As it turns out, Jebreal was apparently mislabeled in her Monday appearance, as MSNBC explains:
While we don't publicly discuss contract specifics, Jebreal's contributor deal with MSNBC officially ended last month when she said she wanted to pursue new opportunities. We've welcomed her back on MSNBC several times since. Her voice is one of many Palestinian voices on MSNBC.
Jebreal confirmed as much in an interview with Democracy Now, telling Amy Goodman that her contract is up and she is currently negotiating.
— —
>> Follow Andrew Kirell (@AndrewKirell) on Twitter
Have a tip we should know? tips@mediaite.com