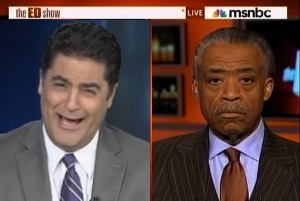 Reports surfaced this weekend that MSNBC is looking to replace Cenk Uygur at 6PM and are looking to make a rather noteworthy switch at that time slot by bringing in Al Sharpton to host his own at that time. Those paying close attention may note that Uygur was never named the official host at the 6PM slot, never having shed the "interim" qualifier to his spot.
Roughly a month ago Rush Limbaugh mocked MSNBC host Cenk Uygur by saying ""I don't know what a Cenk Uygur is," before adding "I don't know where a Cenk Uygur works." And while most would see those as unkind words, he was actually doing the former YouTube star of the Young Turks series a favor, by single handedly giving Uygur much needed relevance in the dog-eat-dog world of opinion media wars. Alas, it looks like it was too little, too late for the Young Turk, as his days hosting the 6PM may very well be numbered.
Chris Ariens reports for TVNewser:
Now TVNewser hears Uygur may be moved out of the 6pm hour, possibly to be replaced by Al Sharpton. When the host changes happened earlier this year, the 6pm hour was simply known as "MSNBC Live," a telling sign that MSNBC was trying out Uygur.

Sharpton has hosted the 6pm show for the last two weeks. This past week, the hour was second, to Fox News, in A25-54 viewers Tuesday, Wednesday and Thursday.
It many ways this move makes sense. Sharpton is a known, if controversial, quantity, who's not shy of confrontation. Uygur hosted a show on YouTube, and while he certainly enjoyed some nice moments hosting the 6PM show, he never made the impact that MSNBC executives were likely hoping for.
So…how did Uygur get here? When the 10 PM time slot on MSNBC was up for grabs in early 2009, Uygur wrote a piece on The Huffington Post "announcing his candidacy" for the position, and encouraged activists to petition MSNBC for the position. He even posted a YouTube video on The Young Turks channel telling viewers how to contact MSNBC and demand TYT get a show on the network.
Last October, Uygur's persistence appeared to pay off, as he was given the interim host position at 6 PM, and MSNBC President Phil Griffin was giving him some high praise. "Cenk's fresh perspective and his passion for politics make him a great addition to the MSNBC team. He's developed a big following on MSNBC and we welcome him to this new role."
Before getting the interim host position, Uygur was a frequent guest host for Ed Schultz and Dylan Ratigan, and got his own "Daily Rant" segment on the latter's show.
Despite Uygur's claim that his competitive rival would be Fox News, his ratings war has always been with CNN. Over the last few months his ratings have been up and down. In March, MSNBC Live trailed The Situation Room in total viewers. In April, the opposite happened. Uygur hit a ratings peak on May 2, the day after bin Laden's death was announced, with over a million total viewers, but still got less than half of CNN's numbers in total viewers and the demo. When The Ed Show was in that timeslot last year, it consistently beat CNN in the demo and total viewers. Excepting the post-bin Laden jump, Uygur's ratings have been short of spectacular, hitting anywhere from 500 to 700K viewers nightly, less than MSNBC's other primetime programs.
When asked about Uygur's future at the 6PM slot in late Spring, a network insider told Mediaite "I think you can note that the ratings have been mixed," adding "it's an important time period and we're paying close attention to it."
In addition to being the former General Manager of MSNBC, Mediaite founder Dan Abrams hosted the 6PM hour on MSNBC for almost five years and says its a unique challenge at the network. "The 6pm hour on MSNBC has long been one of the toughest hours in cable news. While Fox has a built in audience of viewers many of whom who aren't interested in watching 6pm local or even the network newscasts at 6:30, CNN and MSNBC have to battle with networks for audience. For any show to succeed there it really has to be different."
What makes the 6PM time slot even more challenging at MSNBC is that it falls between two airings of Hardball with Chris Matthews. It is a unique parcel of airtime in the cable news landscape, and the the writing appears to be on the wall that Uygur's days in at 6PM might very well be numbered.
Have a tip we should know? tips@mediaite.com