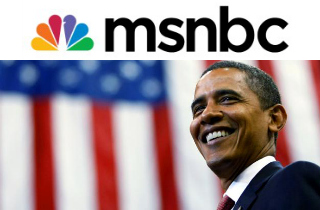 Over at the Huffington Post, media reporter Michael Calderone reports that MSNBC President Phil Griffin seeks to combat the network's growing reputation as not just being "progressive," but being openly "pro-Obama."
Many believe the network's "pro-Obama" reputation has, thus far, been warranted: A recent Pew study found that during the final week of the 2012 election campaign, MSNBC ran zero negative stories about President Obama; and not a single positive story about Republican challenger Mitt Romney.
Comedians have also taken to mocking the network for what seems to be an adoration for the Democratic president –from Saturday Night Live to NBC's Jay Leno, who recently joked that "the economy is so bad that MSNBC had to lay off 300 Obama spokesmen."
After the first presidential debate, in which many believe President Obama looked depressed and defeated, MSNBC's anchors like Chris Matthews practically had a meltdown. And earlier this year, former President Bill Clinton said that MSNBC "really has become our version of Fox."
Griffin conceded to the Huffington Post that his network's hosts are more likely to agree with President Obama on policy, but he dismissed the comparisons to Fox News. "This channel has never been the voice of Obama. Ever," he told HuffPost. "People want to talk about Fox. Fox is the voice of the Republican Party."
The MSNBC chief also told HuffPost that his network doesn't sugarcoat poor Democratic performances, unlike Fox News who featured analysts like Dick Morris and Karl Rove who, as Calderone put it, "cheered up Republicans." Though MSNBC's were upset over Obama's first debate performance, Griffin doesn't think his anchors sugarcoated the situation: "We hire smart people with a progressive sensibility," he told Calderone. "I tell them to go think for themselves. We don't have talking points."
This runs contrary to what New York Times reporter Jeremy Peters said about the network: that its hosts "recycle talking points" straight from the Obama campaign.
Nevertheless, Griffin says his network's mission is to "hold Obama to his campaign promises. And the fact is, there are many things that some of our hosts support him on. But basically, we have a standard, whether it's the war on terror or getting out of Afghanistan: Is he going to live up to his campaign promises?"
Calderone also spoke with some of the network's left-wing critics, who believe the channel's personalities could do a bit more to actually criticize the president. "If the Democratic National Committee were to own a network and produce news programming designed to promote the party, it would look exactly like what MSNBC has become," said The Guardian civil liberties columnist Glenn Greenwald.
Read the full piece here.
Have a tip we should know? tips@mediaite.com