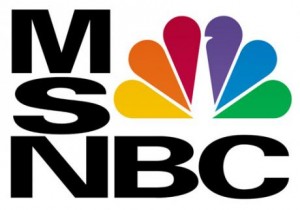 MSNBC's third quarter ratings put the network just a smidgen ahead of CNN, which has filed competitive prime-time viewership numbers for the first time in years. MSNBC's ratings have fallen where CNN has gained, most starkly so in Keith Olbermann's old 8pm hour. Could Olbermann's exit be to blame for MSNBC's fall in rank?
For the month of September, CNN averaged 257,00 viewers in the 25 to 54 age range during primetime, closely approaching MSNBC's average 269,000 viewers. (Fox bested both stations by nearly double, drawing 526,000 viewers per night on average.)
However, with unusually high viewership nights — like the debates — excluded, CNN edges out MSNBC, earning on average 219,000 and 207,000 viewers, respectively.
Comparing this September's numbers to last September's, the New York Times'Bill Carter suspects that MSNBC might have been hurt by the loss of Olbermann at 8pm hour. Lawrence O'Donnell's ratings for that hour are down 100,000 viewers from Olberman's; and that 35 percent loss is comparable to that which CNN has gained in moving network-darling Anderson Cooper's show up. Carter wonders if just enough viewers could have left the network with Olbermann, tipping the scales in CNN's favor:
Mr. Olbermann averaged just over 50,000 viewers in the 25-to-54 measure in September, or less than 20 percent of what he attracted on MSNBC. Still, many of those 50,000 may have previously been viewers of MSNBC — and Mr. O'Donnell was 30,000 viewers behind Mr. Cooper in September.
MSNBC President Phil Griffin insists that such is not the case: that Olbermann's exit had no impact and that the network's lagging numbers this quarter were just a fluke. "I am confident we will increase our ratings as politics become the dominant story over the next year," he told the Times.
MSNBC meanwhile maintain their still-winning stance in a press release sent out this morning. "MSNBC continued to top CNN in primetime for 3rd quarter of 2011, finishing ahead of the formerly dominant news network for the 8th consecutive quarter," they report, boasting double-digit gains for Morning Joe, Hardball, and Maddow and opting not to mention CNN's creeping growth.
Have a tip we should know? tips@mediaite.com