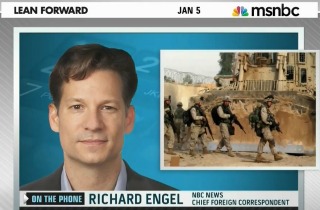 For a network whose personalities had insisted that the so-called "deal" to rid Syria of chemical weapons, hammered out in Moscow and eagerly embraced by a short-sighted White House, was a great success, this is a pretty stunning admission.
The fighting in Iraq between the government, assorted tribes, and Al Qaeda-linked militants has exploded again in recent days, culminating in the fall of the city of Fallujah to Islamic fighters. This development prompted the capable NBC News reporter Richard Engel to admit that the collapse of the Iraqi government in Anbar province has as much to do with the raging battle in Syria spilling out over its borders as anything else.
"The civil war which the United States managed to stop for a little while has come back," Engel reported definitively on Sunday. "And the reason it came back is because of Syria."
"The fight in Syria spilled over into Iraq," he continued. "It reignited the old embers of the civil war which were still there and have now caught into a wildfire because American troops are no longer there and are not going back there to help calm the situation down."
Iraq is merely the latest country to be caught up in the conflagration resulting from the conflict in Syria. Fighting in the Levant has already spilled over into Turkey, Jordan, and Lebanon.
The argument made by many in the United States (one that cut across party lines) that the instability in Syria would directly threaten its neighbors and risk regional stability if it was not contained was attacked as a needlessly provocative and militant point of view in the Summer. Today, as that vision has proven irrefutably correct, one does not hear many of the president's supporters wishfully citing the failed deal to rid Syria of chemical weapons as a foreign policy success. Events suggest quite the opposite — it may be looked upon as the moment when the West passed on the last chance they had to contain what evolved into regional conflict.
Americans, understandably weary after a decade of war in Asia, did not want to intervene in yet another conflict in the region. The nation's elected representatives, tasked with explaining to the nation at the risk of their own popularity why such an action was critical to American interests, shunned their responsibilities. Today, thousands more residents of Middle Eastern nations are imperiled as a result of Western inaction.
America as a global hegemon will eventually be drawn into this conflict. The only question that remains is whether or not it will have expanded beyond the point of containment when we finally are.
[Photo via screen grab ]
— —
> >Follow Noah Rothman (@NoahCRothman) on Twitter
Have a tip we should know? tips@mediaite.com