MSNBC Panel And Pro-Obama PAC Attacks Mitt Romney As 'Cruel,' 'Insensitive' Bully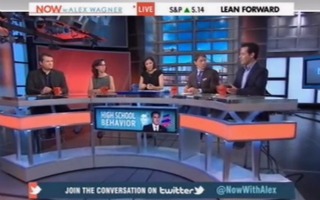 MSNBC's Now with Alex Wagner had a panel discussion about Mitt Romney's bullying episode as revealed in the Washington Post on Friday. They said that Romney appears callous and cruel in his discussion of the event from his childhood. The panel also discussed a recent ad by a pro-Obama Super PAC that is running with the notion that Mitt Romney is a homophobic bully. What a fitting message for the Obama campaign: to appeal to American's sense of victimization.

RELATED: Hannity Panel Counters Romney Bullying Story By Peering Into Obama's Bullying
So, Romney was a bully in high school. Or so the Washington Post and the Obama for America campaign would like you to believe. Worse still, he was a bully who targeted someone with a nonconformist haircut that we are led to believe as vaguely homosexual-looking by 1960s standards. Thus, Romney becomes the latest in American persona non grata – a bully, but the worst kind of bully; a homophobic bully.
The Washington Post story on which this accusation is based has been called into question. Revised without notification and thinly sourced, the story is increasingly contradicted by emerging sources. The revelation that Romney was a bully is falling apart after just one advantageous news cycle for the White House.
But it is still worth running with for the progressive panelists at MSNBC:
Huffington Post political reporter Sam Stein said that Romney's interview on Brian Kilmeade's interview on Fox radio, in which he claimed he did not recall the incident and laughed the accusation off, was "creepy and insensitive."
"It wasn't long ago that we were running specials on TV about how gay teens were committing suicide because of bullying," said Stein.
MSNBC played President Obama's "It Gets Better" ad, part of a campaign to tell gay or bisexual youth that when they get older people grow more accepting of their differences.
But that was not enough to make their point – whatever that was. The Democratic Super PAC "American Bridge," founded by Kathleen Kennedy Townsend, made an ad of Romney's alleged bullying. The ad, "Mitt Gets Worse," features Romney's radio interview and ends asking the audience, "the more we learn about Mitt Romney's attitude toward LGBT people, the worse it gets."
New York Times reporter Jodi Kantor said that the ad is effective and that Obama has achieved all he could possibly have hoped for having completed his "evolution" on the issue of gay marriage.
"Mitt Romney is an artifact of another era," said Kantor. "He's backwards looking and, by the way, he's not a nice guy."
"And cruel," interjected Wagner breathlessly.
What a logical leap. The assumption is that Romney's alleged victim, John Lauber, was gay based on his haircut (the Lauber family has criticized the WaPo story and said the portrayal of Lauber was "factually incorrect," but they would not say precisely what was inaccurate). From the assumption that Romney assaulted someone comes the assumption that this someone was gay. And then, the MSNBC panel makes the assumption that Romney was assaulting him becasue he was gay. The American Bridge ad makes those same assumptions. That kind of defamation is serious stuff.
More than just being foolish and reaching, as a political tactic it is strikingly desperate. The gall required for Obama's supporters to release this ad is staggering. How baseless and trite. How gratuitously self-pitying and prurient. How weak.
That this is all the Obama campaign has left? Are we all now to recall the bullies from our past?
Obama 2012: strike a blow against that mean-spirited jock who elbow-checked you into the lockers in high school.
Of course, this attack on Romney is over the top and misses the mark. Obama's reelection effort should resist the urge to anchor itself in these personal attacks on Romney — attacks that would be equally baseless and uncalled for if they were made about President Obama's unique upbringing.
Watch the panel segment below via MSNBC:
Have a tip we should know? tips@mediaite.com