MSNBC Panel Asks Why Obama Spends No Time Building Partnerships With Republicans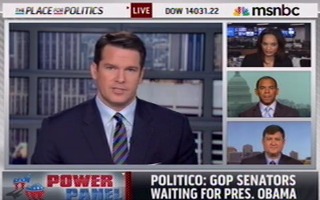 Following the conclusion of a news conference in which President Barack Obama criticized Congressional Republicans for not including a balance of tax increases and spending cuts in their plan to avoid the sequester, an MSNBC panel asked why the president does not invest time in building partnerships with his political opponents in Congress.

RELATED: Thunderous Applause As President Obama Implores 'They Deserve A Vote' On Gun Measures At State Of The Union
MSNBC anchor Thomas Roberts played a clip of Joe Scarborough and Mika Brzezinski today lamenting the president's detached leadership style. "The president is not suddenly going to become Bill Clinton," observed New York Magazine reporter John Heilemann.
Roberts noted, however, that Obama said in his news conference that his door was open to Republicans. He asked why members of the GOP have not taken the president up on this offer.
"He's the President of the United States and he must lead," said Republican strategist Chip Saltsman. "He needs to go see them and build those personal relationships to get this done."
Washington Post reporter Nia-Malika Henderson said that even some Democrats have expressed frustration at the president's detached "style." She said that Obama has relied on Vice President Joe Biden to cajole members of Congress into supporting legislative initiatives favored by the White House.
Democratic strategist Doug Thornell, however, said that Republicans are to blame for the lack of comity in Washington. He said that members of the opposition party are wary of being seen in public with the president or being known for being willing to compromise with Democrats because they become vulnerable to a primary challenge from the right.
"You have to want to be led," Thornell said. "And I don't think the Republicans generally want to be led."
Watch the clip below via MSNBC:
> >Follow Noah Rothman (@NoahCRothman) on Twitter
Have a tip we should know? tips@mediaite.com