MSNBC Panel Battles: Why Can't Obama Work with Opposition When Other Presidents Could?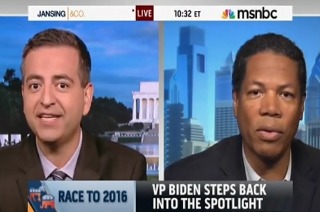 A discussion on MSNBC's Jansing & Co. about Vice President Joe Biden's 2016 presidential prospects veered slightly off course and exploded on Friday. After the panelists agreed that Biden, a veteran of the Senate, can effectively cobble together coalitions of Democrats and Republicans for major reforms, the panel guests erupted over why President Barack Obama is unable to do this. One guest argued that Republicans are uniquely opposed to working with Obama while another guest observed that every past president has been able to overcome staunch opposition.

Democratic strategist Chris Kofinis and GOP strategist Joe Watkins agreed that Biden is a formidable legislator, but Watkins expressed doubt that he is a likely candidate to become the Democratic Party's 2016 nominee.
Watkins suggested that Biden should be advising Obama to end his latest bus tour advocating for changes to the nation's college system. "Biden's best helped if the president accomplishes something in the second term, and the way to do like Lyndon Johnson did," Watkins said.
"Where is President Obama going to find Republicans who are going to work with him when they're calling for his impeachment?" MSNBC anchor Chris Jansing asked incredulously.
"There are Republicans in the Senate and even some Republican in the House that would work with the president to fix Obamacare, to get college students a better deal with regards to tuition, to provide a clearer path for immigration," Watkins said. "But you've got to find those people."
"Can you release those names?" Kofinis asked. "I think the American people would love to hear them."
"It's really for the president to do," Watkins countered. "Lyndon Johnson didn't sit back in his oval office saying come to me." And yet, Watkins noted, Johnson passed sweeping legislative changes to the American social compact in 1964, 1965, and 1966.
Jansing insisted that Obama has invited Republicans out to dinner and to the White House on numerous occasions. "He's got to do more," Watkins pressed.
"You can't negotiate with another side that is not willing to give," Kofinis insisted.
"Lyndon Johnson did. Ronald Reagan did. Bill Clinton did," Watkins countered.
"Great presidents are thick skinned," Watkins said after Kofinis noted that even those who claim to be Obama's friends on the GOP side have openly contemplated impeaching him. Kofinis laughed at this assertion.
Watch the clip below via MSNBC:
—
> >Follow Noah Rothman (@NoahCRothman) on Twitter
Have a tip we should know? [email protected]