MSNBC Panel Concedes Double Standard With Nikki Haley: If GOPer Leveled Attack, 'We Would Have Led With It'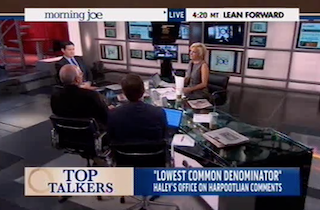 South Carolina Democratic Chairman Dick Harpootlian made headlines recently when he remarked that he hoped gubernatorial candidate Vincent Sheheen would send the state's governor Nikki Haley "back to wherever the hell she came from." Morning Joe took note of the story on Monday morning — conceding that were the remark made by a Republican, the media coverage would be "crazy."
"In about 18 months from now," he said, "hopefully he'll have sent Nikki Haley back to wherever the hell she came from." Asked about the comment, Harpootlian said he was referring not to Haley's Indian heritage but to the county she was from.
"You don't do that," host Mika Brzezinski reacted.
"Let me just say, fair enough, that if a Republican did this, we'd be covering it like crazy — so we're covering it because it was wrong and those statements were absolutely wrong," she later acknowledged. "That's a gaffe at best."
Brzezinski and the panel agreed that Harpootlian should apologize regardless of what he meant by the comment, and further predicted that he would feel the pressure and do so today. Willie Geist then came back to Brzezinski's earlier point about a double standard, agreeing with it.
There appeared to be a consensus, as Mike Barnicle further chimed in that "we would have led with it." (So: Who's stopping you? In this case, they went with a three-minute segment in the first half-hour of the show.)
…points for a bit of self-awareness?
Take a look, via MSNBC:

Have a tip we should know? tips@mediaite.com