MSNBC Panel Displays Stunning Lack Of Self-Awareness In Analysis Of The 'War On Women'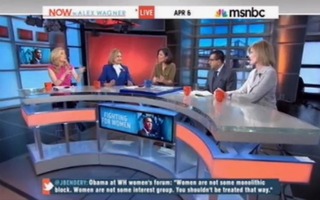 The panel discussion on Now With Alex Wagner verged on the absurd this afternoon as the panelists, composed wholly of women with the notable exception of fellow MSNBC host Martin Bashir, sought to provide likely GOP presidential nominee Mitt Romney with some sincere advice on how to ameliorate his and his party's problems with the female electorate. Their conclusion, however, was essentially that he and his party have no hope and should just stop trying.
…Surprise!
RELATED: Mitt Romney Reaches Out To Women Voters, Says Obama 'Consumed With Trying To Find Someone To Blame'
iVillage columnist Kelly Wallace opened the segment on the GOP's troubles with women by parsing Republican National Committee Chairman Reince Priebus' dismissal of the Democratic charge that the GOP is leading a war on women as being as absurd as saying there is a "war on caterpillars."
"I think even Republicans will say 'Why?' Women can come out and say you're comparing us to insects," Wallace exclaimed. She did take the time to clarify Preibus' statements for him, and his obvious intention to mock the Democrat's premise, when making the caterpillar comments. This was an appropriate move by Wallace, but a clarification on that comment is completely unnecessary.
To digress for a moment: taking at face value that Priebus' caterpillar analogy was certainly impolitic, those who suggest that this represents the actual sentiments of the Republican party – that women are akin to insects – is laughably disingenuous. It's difficult to find evidence of any Republicans who were similarly outraged at President Obama's characterization of Republicans as awful drivers who drove the economic car into a ditch. Had anyone on the GOP side indignantly asked the president if he meant to suggest that Republicans were all carless drivers, that individual would have been appropriately mocked off the national stage. Fortunately for Democrats, they seem able to escape basic analogical competency tests.
But, back to the show: Wallace continued by saying that she views the comments from readers at her publication, composed heavily of women, and sees a "huge problem for the party" in that the commenters view the GOP as openly hostile to women.
Wagner reinforced that point by citing retiring Republican Sens. Olympia Snowe (ME) and Lisa Murkowski (AK) [who won as a write in candidate after losing the Republican party nomination in 2010] who thought that the attacks on contraception advocate Sandra Fluke should have been commended rather than condemned by the vast majority of the conservative commentariat.
Having identified the problem the GOP faces with women voters, the panel than turned their attention to the likely GOP nominee, Mitt Romney, and how he can shore up his support among the female demographic with his eventual vice presidential pick.
While the most obvious way to address this issue would be to choose a qualified female Republican officeholder to join him on the ticket in the fall. Wagner opined, "maybe it's giving the nod to [Sen.] Kelly Ayotte of New Hampshire. She's a woman. Maybe it's [New Mexico Gov.] Susana Martinez. A lot of names are being floated out there."
Author Catherine Crier responded that in order to distance Romney from the party's supposed attacks on women, he would have to divorce himself from the entire party. Therefore, his vice presidential pick "will probably be very safe." Crier continued, "I don't know that he will look for a woman to get the women's vote."
Bashir contended the point, saying that "in one foul swoop. He could go and say, I'm going to have a female on the ticket. Bang goes the argument that he's negative…"
But, of course, that option is now closed forever to Republican presidential candidates because … you know this one. That's right: Sarah Palin.
Having chosen the blunderous and inept Palin to join Sen. John McCain on the 2008 Republican ticket, so the progressive thinking goes, he poisoned that well for all future Republican presidential candidates.
"The memory of Sarah Palin is still fresh in everyone's minds so, the question is, can [Ohio]Senator Rob Portman put on a wig and take that thing across the country," said Wagner.
"Is he into cross-dressing?" Bashir asked mockingly.
Solid political analysis there, midday MSNBC viewers. Rarely do you encounter a statement blessed with less poignancy. Furthermore, this sentiment is painfully dismissive of the myriad bright capable and politically talented Republican officeholders.
Of the six sitting female governors, four are Republicans. There are presently five Republican women in the Senate and, of the 74 women in the House of Representatives, 25 are Republicans. Many of these officeholders would make great additions to the GOP ticket – only on MSNBC panel discussions is Sarah Palin's vice presidential legacy a stumbling block for a future Republican duel-gendered ticket.
One of the panel members, eight-term Democratic Representative from Manhattan's East Side Carolyn Maloney, appeared on the program wearing a button on her lapel that read "where are the women?" The electoral argument that Democrats are making appears to be that Republicans are dismissive of women. Odd that the MSNBC panel would chose to make that argument by being dismissive of women. But, maybe it's just another one of those litmus tests that only applies to Republicans.
Watch the illuminating panel discussion below via MSNBC:
Editor's note: This post has been edited since its original posting – Jon Nicosia
Have a tip we should know? tips@mediaite.com