MSNBC Panel Erupts When Roland Martin Asks: Double Standard on Female Abuse Charges?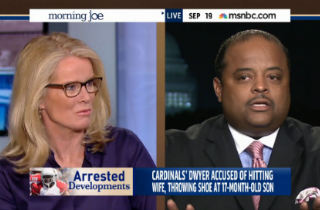 When Roland Martin brought up the domestic abuse case of female soccer star Hope Solo during a Morning Joe panel, things got a bit tense.
Earlier this year, Solo was arrested on two misdemeanor counts of fourth degree domestic violence assault against her sister and nephew. After pleading not guilty to both charges, she will face trial later this year. Throughout her ongoing case, Solo has yet to lose major endorsement deals with companies like Nike and Gatorade.
Martin and the Joe crew were discussing the Arizona Cardinals' release of Chris Rainey — a practice squad player who has a history of domestic abuse arrests — when the ex-CNN'er asked why there's no similar media outrage over Solo's story.
Citing ESPN "lauding" Solo during a women's soccer highlight reel, Martin asked, "Domestic violence is a national issue, should we not be questioning why Hope Solo is still playing on the women's soccer team, and Nike — who dropped Adrian Peterson — has said nothing about Hope Solo?"
"Whoa," panelist Katty Kay interjected. "I'm a little skeptical of that. Look, that's one example of one woman beating another woman, with countless examples of men beating women." She added that Solo should face the same "retribution" as her male counterparts, "but let's not try and use that as an example to suggest that women are as guilty of domestic violence as men are."
When Martin protested that he's not doing such a thing, Mika Brzezinski asked, "Then what are you doing?"
"I'm making the point that if we're saying domestic violence is a national issue — and it is — we must be vigilant across the board," Martin clarified. "There should be one standard."
Our own contributing columnist Joe Concha echoed similar thoughts Thursday when he suggested the media has been apathetic about Solo's case due to gender double-standards.
Watch Martin's segment below, via MSNBC:
[Correction: This post previously stated that the Cardinals had released Jonathan Dwyer. They did not; it was Chris Rainey.]
— —
>> Follow Andrew Kirell (@AndrewKirell) on Twitter
Have a tip we should know? tips@mediaite.com