MSNBC Panel Erupts When S.E. Cupp Says 'I Don't Want [Gender] Equality' Or 'Quota Mongering' In Secret Service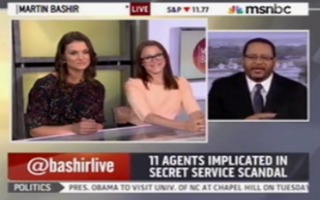 A panel discussion on MSBNC's Martin Bashir Live exploded during a discussion of the Secret Service prostitution scandal when New York Daily News columnist S.E. Cupp objected to the statements of some female lawmakers who suggested that the scandal would never have occurred if there had been more female agents on that particular detail. Cupp said she did not want "equality" or "quota mongering" in the secret service, but wanted "the best people for the job protecting my president."

RELATED: S.E. Cupp Battles Alex Wagner Over Ted Nugent, Similar Criticism of Bush Was 'Lighthearted'
Bashir opened the segment by playing a clip of Republican strategist Karl Rove on Fox News Sunday in which he suggested that while the GSA scandal represents a problem for the Obama administration, the Republican party would be "making a big mistake" by trying to leverage the controversy for political gain.
Bashir asked Cupp if Rove had "lost it" and said that the job of a political campaign is to attack their opposition at every possible venue.
"You can't blame the president for gas prices, right? That's just not fair," said Cupp. "I don't think you can blame the president for the Secret Service scandal. The GSA thing I think is a little murkier waters. But look, if the White House ignores the Secret Service scandal – doesn't fully investigate it – than I think it is fair to call into question their oversight and leadership over what is – could have been an incredibly dangerous and damaging moment for this presidency."
Turning to Georgetown University Professor Michael Eric Dyson, Bashir noted that White House Press Secretary Jay Carney announced on Monday that the Obama administration has launched its own investigation into the Secret Service scandal and found no White House staffers were involved.
"I applaud Mr. Rove and Ms. Cupp for saying that this is not the right thing to do," said Dyson. "Stay out of these murky waters because it ends up redounding negatively back on the Republicans, because you can be guaranteed that the problem is now with the Democrats but very soon a similar kind of thing could happen to the Republicans."
"How often do you see female members of Congress having the zipper problems that so many of the men do," asked Democratic Strategist Krystal Ball, reacting to Sen. Susan Collins (R-ME) and Rep. Carolyn Maloney (D-NY) telling ABC News' This Week on Sunday that the scandal would not have occurred were there more female Secret Service agents.
"Having a balance of men and women makes for a more effective product, brings a more balanced perspective and is important," said Ball.
Returning to the apparent desires of some Republican lawmakers to implicate the Obama administration in both the GSA and Secret Service scandals, Ball said "I think that Republicans are frankly desperate for the president to have some kind of scandal."
Cupp took issue with Ball's assertion and interrupted her, saying "You don't think Solyndra was a scandal? We've got plenty."
Ball cited University of Virginia Professor Larry Sabato who notes that President Obama has been relatively untouched by scandal during his administration. "It's no surprise that the Republican party – who said their number one objective was to get the president out of office – is trying to gin up and find something that they can use that they can talk about."
Cupp said that the Republican party has no need for scandals. Cupp also took issue with Collins and Maloney's statements, saying that she doesn't want "equality" or "quota mongering" in details like the U.S.S.S. "I want the best people for the job protecting my president. If it happens to be all men – that's fine with me."
When the panel erupted in objections to Cupp's statements, which included Bashir saying that the men in the Service were at the time engaged with prostitutes and therefore not doing their job, Cupp said "let's not offend an entire body politic."
Dyson and Cupp engaged in a heated exchange about the necessity of having men and women in the service and women's potential to reduce the incidence of scandal like the most recent one. Cupp said that men do not have a premium on scandal and that "I could rattle off a long list of women who have fallen prey to immoral behavior. We are not above it," Cupp concluded.
Watch the segment below via MSNBC:
Have a tip we should know? tips@mediaite.com