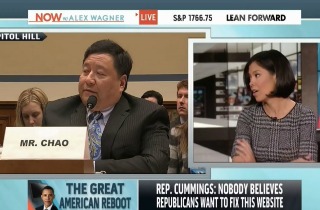 The panel guests on MSNBC's Now with Alex Wagner debated on Wednesday President Bill Clinton's intentions on Tuesday when he told an interviewer that President Barack Obama should keep his "commitment" to those losing their health insurance plans as a result of the Affordable Care Act.

In a question directed to BBC's Katty Kay, Wagner asked whether she believed the "conspiracy theorists" point of view which stipulates that Clinton was giving cover to red state Democrats who want to campaign next year on their having championed fixes to the ACA.
Kay said that this might be unlikely because the likelihood that the Republican-controlled House would pass any fixes to the ACA at this juncture are "fantastical."
"Why would the Republicans ever sign on to this when they feel that this is helping them so much, at the moment?" Kay asked. She said that Clinton was more likely helping his wife, Hillary Clinton, to distance herself from the Obama administration.
RELATED: Bill Clinton Scolds Obama: 'The President Should Honor the Commitment' He Made
BuzzFeed's John Stanton said that, while he cannot say what is in Clinton's head, he is certain that his comments were not well received within the White House. He said that the comments give Republicans the ability to take either criticisms of the ACA "out of a political context."
"I think Clinton is actually doing them a favor," POLITICO's Glenn Thrush interjected, "and, in Clinton's convoluted mind, thinks he's doing them a favor."
"I think this is an escape hatch from the current predicament," he said.
Washington Post reporter Juliet Eilperin countered that, from a policy perspective, Clinton's recommendation is "really difficult" to enact.
"For the insurance companies, this is a huge headache," she said. "And you need their buy-in, and you need them to constrain rates."
Wagner asked if the Republicans in Congress who might support a "keep your plan" proposal are listening to the insurance and pharmaceutical companies who see it as unworkable. Eilperin said that she was not sure that they would, even if they were listening, follow those firms' advice because of the "incredible political opportunity" with which they've been presented.
Wagner let out a long groan following Eilperin's elucidation of the problems with which the White House is contending.
Watch the clip below via MSNBC:
[Photo via screen grab]
— —
> >Follow Noah Rothman (@NoahCRothman) on Twitter
Have a tip we should know? tips@mediaite.com