MSNBC Panel Goes Nuclear On Sarah Palin: 'Irrelevant', 'Irresponsible,' 'The Kim Kardashian Of Politics'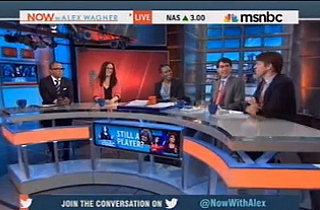 On Wednesday, former Alaska Gov. Sarah Palin's PAC released a video touting the former Republican vice presidential candidate's political stature and continued relevance in GOP politics. On Thursday, the panel guests on MSNBC's Now tore into the controversial political figure for what they saw as Palin's irresponsibility, her irrelevance, and her effort to insert herself back into American politics for pure financial gain.

RELATED: Sarah Palin Goes 'Rogue'? Wore Chick-Fil-A Shirt To Phoenix Suns NBA Game
"Mama grizzly Sarah Palin may not have a real job or even a reality show on the horizon, but these days she seems like she's gearing up to be a game changer in 2014," said guest host Joy-Ann Reid.
After playing a clip of her new video, Reid turned to her panel to ask their impressions of Palin's reemergence onto the political scene. "Irrelevant or awesome?" Reid asked.
"Awesomely irrelevant," replied New York Times reporter Benjamin Wallace-Wells. "One thing I'm wondering is in the next presidential cycle, after Herman Cain and after Sarah Palin, we will view more cynically candidates who seem to be running for president as a way to amp up their speaking fees."
"Ben Carson," Reid suggested.
"Right," Wallace-Wells agreed.
New York Times Magazine editor Hugo Lindgren questioned whether Cain's "disgraceful" exit from the political scene actually helped increase his speaking fees.
Reid asked Washington Post columnist Jonathan Capehart if Palin still retained "some utility" for the GOP, even if it was just to fire up the base.
"No," Capehart replied. "I think all the people you mentioned were irresponsible. Herman Cain, Newt Gingrich, Sarah Palin swooping in whenever she felt like the media spotlight was even inching a millimeter away from her."
"These are people who should never be considered presidential timber, who should never have gotten the platform that they got," Capehart added.
"In a lot of ways, Sarah Palin is kind of the Kim Kardashian of politics," Reid opined. "You're not 100 percent sure what she's famous for, but she keeps getting on your TV."
"She was a completely unqualified vice presidential nominee, Megan, and yet it is John McCain who took a hit in terms of his esteem, not her," Reid said to Atlantic columnist Megan McArdle.
Watch the clip below via MSNBC:
> >Follow Noah Rothman (@NoahCRothman) on Twitter
Have a tip we should know? [email protected]