MSNBC Panel Guest: 'Bill Clinton Has More Freedom To Be Black In Public Than Barack Obama'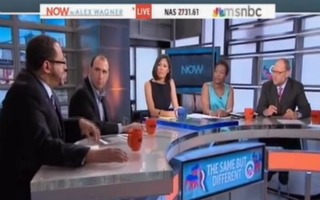 In a discussion about President Barack Obama's reelection effort and his inability to reach directly out to the African American community, MSNBC panelist and Georgetown University Professor Michael Eric Dyson said he believes "Bill Clinton has more freedom to be black in public than Barack Obama."

RELATED: NY Times Buries The Lede: Anderson Cooper's Ratings Surge At 8PM
MSNBC Host Alex Wagner asked her panel their opinion on an editorial in the Washington Post which criticized President Obama for ignoring issues that resonate with African American voters. The Post editorial says that African Americans have "struck an implicit pact with Obama… We've accepted his silence on issues of particular interest to us."
The MSNBC panel observed that President Obama is less free to talk about issues like, as Wagner cites, criminal justice reform that she says are of particular importance to black voters.
The Grio editor Jo Ann Reid said that this argument is more in tune with the sentiments of the leaders of the Congressional Black Caucus who "went about politics in a more explicitly racial way." She said that the White House has helped pass a number of initiatives that do aid minorities.
Dyson said that in his conversations with President Obama, he has made a persuasive case that his policies have helped all Americans and especially minorities. However, Obama told him that his election chances are furthered if he makes the case that his reforms help all people
"Look at the Pell Grants. That's disproportionately helping African American people," said Dyson. "But if I go out here and say, 'it's black, it's for black people,' oh, that's a big winner."
"Part of the problem is, if you've got a guy up there who is black, he's already at a disadvantage," Dyson continued. He cited the backlash to President Obama saying that if he had a son he would look like slain Florida teen Trayvon Martin as evidence that the President has to walk a fine line on race issues.
Dyson said that Obama told him that his problem is that he is dealing with a Congress that "doesn't read [Princeton University Professor] Cornell West or Michael Eric Dyson."
Wagner agreed and said that no other president has had to deal with the "incendiary language" and "painting him as the other" with which Obama has had to contend.
"Bill Clinton Has More Freedom To Be Black In Public Than Barack Obama," Dyson concluded.
Watch the segment below via MSNBC:
Follow Noah Rothman on Twitter
Have a tip we should know? tips@mediaite.com