MSNBC Panel Guest: Donations To The Mormon Church Shouldn't Count As Supporting Public Social Services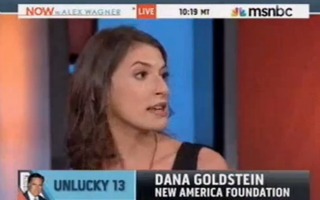 On MSNBC, a guest discussing the tax payments made by Mitt Romney dismissed the multi-million dollar charitable donations that the GOP presidential candidate gave to the Church of Jesus Christ and Latter Day Saints. She said that she felt donating to the Mormon Church and giving to other social services charities should be considered distinct.

On Friday, MSNBC's Now discussed Romney's revelation from Thursday when he claimed that he paid no less than 13 percent in taxes every year for the last ten years. When including his charitable donations, the total comes closer to 20 percent.
Guest host Ari Melber asked Buzzfeed editor in chief Ben Smith about the dueling letters between the Romney and Obama campaigns from Friday in which they publicly negotiate how many past tax releases the Romney campaign will dispense to reporters.
Melber thought it was interesting that the Obama campaign has set the bar lower, at five years now, than the press which is calling for 12 or more years of past tax returns. "It's a gimmick to get another day out of talking about it," said Smith. He said that the Obama campaign was simply baiting Romney into talking about his taxes.
MSNBC contributor Robert Traynham said that he thought the Obama campaign was wasting their time in trying to demonize Romney's wealth when Americans are either unconcerned with Romney's income or they seek to emulate his success.
Melber turned to Dana Goldstein, a fellow with the New America Foundation, and asked if she thought it was true that Americans generally would like to make the money Romney makes and pay the amount of taxes he pays. Goldstein changed to subject to Romney's response on charitable giving which disturbed her.
I think that Robert touched on something that's real in terms of the antipathy towards taxpaying, but I'm interested in this broader conversation in the way Mitt Romney talks about taxes. He says he paid 13 percent tax rate, but if you add in his charitable giving it's up to 20 percent. That's really strange to me. We know from what he's already released that he's given about $6 million to the Mormon Church and $1 million in other charitable giving. Why his payments to the Mormon Church should count as, sort of, in the same bracket as supporting our social services programs is strange to me. And I think this does say something about the ideology of the two parties on taxes.
Watch the segment below via MSNBC:
> >Follow Noah Rothman (@Noah_C_Rothman) on Twitter
Have a tip we should know? [email protected]