MSNBC Panel Mocks Bill Kristol on GOP Obamacare Alternative: 'You're Putting This Out' Now?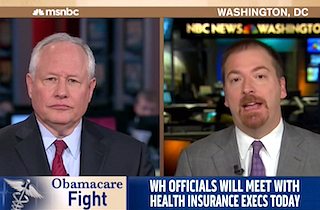 Conservative pundit Bill Kristol sparred with a Morning Joe panel on Wednesday morning over the Republican Party's anticipated alternative to the Affordable Care Act, arguing that the GOP's plan would be better than Obamacare, and rebutting charges that it was too little, far too late.
"There are many different ideas, many different pieces of legislation introduced," Kristol said. "John McCain (R-AZ) campaigned on a good reform plan and got clobbered on the issues because McCain actually had a big attempt to equalize the playing field to provide insurance and individually provided insurance. Paul Ryan (R-WI) will lay out the big Republican reform plan in January. I think it will be much better than Obamacare for the country."
"I think that we're not really getting to the conservative opposition to Obamacare here," guest Alex Wagner said. "I think it fundamentally is about entitlement programs, earned benefit programs, and social safety net. This is going to be another teat from which the takers suckle from. I'm not even judging the resistance to the idea of another social insurance program, but that's what I think this is."
"The Republican proposals are more like social insurance proposals," Kristol responded. "What is premium support? Helping poor people get some money to buy the insurance they want in a private market. These exchanges are not private markets…There are 19 million Americans who buy insurance in the individual market. About 16 million of them apparently have plans that are not complient with Obamacare. Let them keep their plan!"
"Well then pass it!" co-host Mika Brzezinski said.
Chuck Todd agreed. "Bill, the fact that Paul Ryan's putting this out in January after the law has taken effect fully? This is where the Republicans have hurt themselves on credibility. You talk about the John McCain plan? Barack Obama's plan takes more from John McCain's plan than any other Republican plan I've seen."
Watch the full clip below, via MSNBC:
[Image via screengrab]
——
>> Follow Evan McMurry (@evanmcmurry) on Twitter
Have a tip we should know? tips@mediaite.com