MSNBC Panel Mocks CPAC's List Of 'D-League' GOP Speakers: 'Lost, Lost, Lost, Lost, Lost'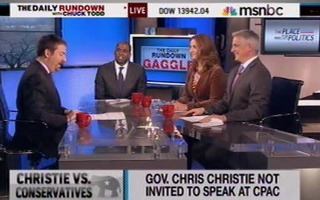 The panel guests of MSNBC's Daily Rundown with Chuck Todd ruthlessly mocked the Conservative Political Action Conference on Wednesday for inviting a number of GOP speakers who lost their elections while shunning the party's most popular figure, New Jersey's Republican Gov. Chris Christie.

RELATED: Scarborough Tears Into Christie's CPAC Snub: Maybe 'I Am A RINO' — Since GOP Doesn't Care About Winning
Todd quoted a ranking figure in the American Conservative Union who equated CPAC with an all-star game for professional athletes. He said that they simply thought Chris Christie did not have an "all-star year," but expressed his hope that Christie would again soon.
Todd than read off the list of featured Republican speakers slated to address CPAC "who apparently are on the all-star invitee list." Those names include: former Alaska Gov. Sarah Palin, former House Speaker Newt Gingrich, former Rep. Artur Davis (D-AL), Saratoga Springs, Utah, Mayor Mia Love, former Rep. Allen West (R-FL), and former Puerto Rico Gov. Louis Fortuño.
"Lost, lost, lost, lost, lost, lost, lost," Todd said.
"They even lost their Fox News contracts," tagged MSNBC political analyst Perry Bacon Jr. "These are not the rising stars of the Republican Party. Maybe Chris Christie is right – he's the smart one here."
"Is he too popular with swing voters," Todd asked incredulously.
"This is more like the D-League – the NBA D-League," said NBC News Reporter Mike Viqueira.
"Whatever happened to the European Football League?" Todd asked.
Watch the clip below via MSNBC:
> >Follow Noah Rothman (@NoahCRothman) on Twitter
Have a tip we should know? tips@mediaite.com