MSNBC Panel: Obama Saved 'Thin-Skinned' Wall Streeters From 'Stockades,' 'Nationalized' Banks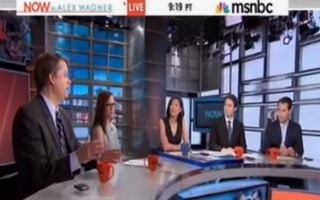 In an MSNBC panel discussion on President Barack Obama's attacks on the institution of Wall Street and the President's declining support among financial professionals, Huffington Post political reporter Sam Stein said that Wall Street traders who have turned against Obama as a result of his rhetoric are "thinned-skinned." The MSNBC panelists said that Wall Streeters should be grateful that their industry was not nationalized and financial professionals were not locked into "stockades" in the wake of the crash of 2008.

RELATED: MSNBC Anchor, Guests Attack 'Crazy People' In Arizona That Have Reignited 'Birther Debate'
"These Wall Street guys have such thin skin," said Stein towards the end of an MSNBC panel discussion on Obama's waning electoral support among members of the financial industry. "The way it could have been – think about how it could have been – they could have nationalized the banks. They could have hauled people before a court and they could have put them in jail. They could have done…"
"Stockades," interjected MSNBC host Alex Wagner excitedly.
"Nationalize the banks," asked an incredulous New York Times' reporter Nicholas Confessore.
"Now we have record profits on Wall Street and these people are doing very well and, you know, yes –Obama's a politician," said Stein. "He has bad rhetoric towards Wall Street every now and then. Give me a break. I mean, come on."
So the argument voiced on MSNBC's Now panel was that Wall Street traders should publically support President Barack Obama because he could have rightfully nationalized their industry in the aftermath of the crash of 2008.
Indeed, this was an argument made by President Obama himself in 2009 when the told an audience of chief executives from the nation's 13 largest banks that ""My administration is the only thing between you and the pitchforks."
The level of cynicism displayed by the President – and MSNBC's Now panelists – regarding the character of the American people is appalling. The suggestion that the American people hunger for riotous violence and scapegoats in the tradition of revolutionary France demands reproach.
Some of us still have enough faith in our neighbors to assume that they would not be moved to violence in the wake of an economic shock. I would imagine that the number of people who still possess that level of confidence in the American character might even approach an electoral majority.
Watch the panel discussion below via MSNBC:
Have a tip we should know? tips@mediaite.com