MSNBC Panel Offers Predictions For Veep Debate: Biden Will Soar, Ryan Will Lie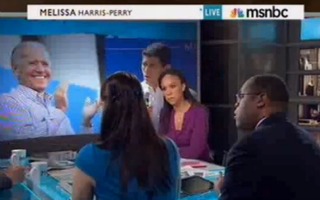 It was not long ago that New Jersey Gov. Chris Christie was being publicly mocked for inexplicably raising the expectations on Mitt Romney ahead of the first presidential debate. Fortunately for Christie, Romney met those expectations and then some. If he had not, that episode would be a permanent stain on the New Jersey governor's reputation as a political analyst. Christie played chicken with fate and won, but the analysts on Melissa Harris-Perry's program on MSNBC seemed unconcerned with their reputations on Sunday as the set the bar for Vice President Joe Biden at stratospheric levels. Simultaneously, the panelists downplayed Rep. Paul Ryan as a policy lightweight who will most likely lie his way through the first and only vice presidential contest. Such hubris is rarely ignored by the vengeful gods of prognostication.
"I think Joe Biden gets a bad rap as a politician and as a communicator and as a debater," said MSNBC co-host of The Cycle and Salon.com columnist Steve Kornacki. "I'm not sure when it started, but sometime in the last five years, this caricature of Biden as everyone's crazy uncle has taken hold."
What Kornacki may have failed to internalize there, when he characterized Biden's reputation as a gaffe-machine as a caricature, was his own admission that this impression took five years to cement. Five long, gaffe-laden years. Think, for a moment, how the beloved Joe Biden – who holds well-attended parties for the Washington press corps and is personally regarded highly by even the conservative press – who joined the adored President Barack Obama's administration as his vice president – think just how often Biden has to underperform in order to accrue that reputation.
This is a politician who, in the last few months alone, has said that Republicans want to put the members of his primarily black audience "back in chains," has said that the middle class has been "buried" over the course of his boss' administration and has said that the president's plan for a second term is to raise taxes by $1 trillion. For the love of all that's holy, the Washington Post's Chris Cillizza invented a Gaffe-o-Meter just to quantify the political impact of Biden's serial misstatements.
And that's just the inconsequential stuff. Biden has said things that have far more importance and should be deeply concerning given his stature. Biden claimed, sans evidence, that Paul Ryan advocated for a plan that would let Medicare go bankrupt by 2016. The context-obsessed Washington Post fact checker Glenn Kessler devoted all of four sentences to debunking this patently false statement. During the 2008 vice presidential debate, Biden insisted that the United States, in coordination with France, "kicked Hezbollah out of Lebanon." Huh? Of course, the vice president advised that the U.S. not engage in the raid that took out Osama bin Laden, and he advocated for Iraq to be broken up into three, ethnically homogeneous and likely warring new states.
These are not the musings of a cautious statesman deserving of reverence, regardless of your level of personal admiration for Biden's long political career.
But the MSNBC panel was not satisfied with building Biden's reputation up to easily demolished heights. Once that task was complete, they set about lowering the bar for Rep. Paul Ryan to crest when the pair faces off next Thursday.
"I think Ryan's reputation as a smart, sustentative guy is collapsing in part because of the amount of fact checking that had to be done after his nomination acceptance speech," opined Feministing.com editor Chloe Angyal. "I doubt very much that people are going to be able to take what Ryan says in the debate at face value."
Not to relitigate the well-trodden assertion that Ryan's convention speech was somehow factually challenged, but it has become a Kornacki-like myth that the Wisconsin Congressman's convention speech was riddled with errors. The institution of fact checking suffered a major credibility blow after that episode. Take, for example, the fact checking industry's assertion that Ryan lied when he claimed that a General Motors plant, which Obama promised to keep open in his first term, closed under Obama's watch.
Fact checkers flew into action – claiming that plant had closed during Bush's second term and Obama never promised to reopen the plant, as Ryan claimed. Within hours of that assessment, it was learned that the plant had, in fact, closed in 2009 and Obama did, in fact, promise to "retool" that particular plant so that it could remain viable in the 21st Century.
The prediction business is a bad one – the returns on a prediction that turn out to be correct never exceed the amount of damage that can be done to the reputation of someone who goes out on a limb and is undone by events unforeseen.
Why this panel would chose to build up Biden and reduce expectations for Paul Ryan when so many of their colleagues on the left are saying the precise opposite is truly vexing. But that assumes that someone will hold these individuals to account if their predictions fail to materialize.
Watch this panel segment below via MSNBC:
> >Follow Noah Rothman (@Noah_C_Rothman) on Twitter
Have a tip we should know? tips@mediaite.com