MSNBC Panel Praises O'Reilly For Slamming Michelle Bachmann, Highlight Network's Own Timidity
MSNBC Panel Praises O'Reilly For Ripping Bachmann, Highlight Network's Own Timidity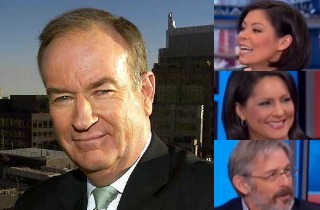 On Thursday, the host and panel guests on MSNBC's Now praised Fox News Channel's Bill O'Reilly for directing a series of unqualified criticisms at Rep. Michelle Bachmann (R-MN) after the conservative House member made a series of inaccurate statements in a misguided effort to attack Democratic politicians. Well, the MSNBC hosts almost praised O'Reilly before the panel guests pulled back, lest they allow themselves a moment of impartiality. In fact, their praise was couched in a criticism: why do Fox News Channel's hosts not criticize Republican politicians more often? In fact, with a bit of introspection, MSNBC's hosts could ask themselves why they don't chastise Democratic politicians with any regularity? Particularly given the wealth of material available to support those criticisms.

RELATED: O'Reilly Goes After Bachmann For 'Lavish White House' Critique: 'Playing Small Ball,' 'Can't Back Up Her Criticism'
On Wednesday, O'Reilly went after Bachmann's factually inaccurate attacks on President Barack Obama in clear terms lacking any prevarication:
"It's long past time for partisans, on both the right and the left, to cut the nonsense and look at things clearly. We've got huge problems in America and the president's directly responsible for some of those problems… Michele Bachmann is playing small ball with the president, can't back up her criticism, and actually trivializes a huge problem: irresponsible spending by the federal government."
The following day, the hosts and panel guests of Now praised O'Reilly for his unorthodox divergence from the expected, reflexive defense of a Republican lawmaker under fire in the press.
MSNBC host Alex Wagner cited the Washington Post's fact checker blog which admonished Bachmann for inflating the amount of funding the Supplemental Nutrition Assistance Program (food stamps) applies to administrative costs versus the funding it directs to needy beneficiaries.
"As comedic as Michelle Bachmann's lies and distortions are, I actually feel like this is really dangerous," Wagner said. "This gets into the water stream and then it becomes a repeated talking point, and people are completely misled about the realities of our budget and government spending."
"This is what happens when you read the comments section of too many right-wing blogs," noted The New Yorker columnist Rick Hertzberg.
"She's probably getting more air time on MSNBC, at this point, than on Fox," Hertzberg guessed.
Wagner corrected him and noted that O'Reilly did take Bachmann to task over this and other assertions she has made in recent days which are inaccurate and, as O'Reilly noted, damaging to the conservative movement in the long run. Wagner called O'Reilly's rogue commentary "a welcome change."
MSNBC contributor and former Democratic operative Karen Finney almost agreed, but stressed that this kind of truthful commentary on Fox is lamentably rare.
"Okay, Bill O'Reilly, one time, called her out," Finney remarked dismissively. "The Republican Party has got to break their addiction to the Bill O'Reilly…"
"To crazy," Wagner interjected.
"To, you know, Rush Limbaugh, and, I don't know, check a few facts. Do a little math here and there," Finney continued.
Oh, how saucily droll. Judging from this panel's reaction, one may be led to believe that MSNBC's hosts regularly critique ideologically simpatico lawmakers on the Hill. Or, perhaps, that there is simply a dearth of factual inaccuracies promoted by Democrats to critique.
For the sake of a narrowly defined argument, let's focus entirely on what Washington Post fact checker Glenn Kessler has deemed Pinocchio-worthy in recent weeks. Maybe MSNBC's hosts missed this choice nugget from a speech delivered by Sen. Barbara Boxer (D-CA) in the Senate on March 4:
"I think we ought to go back to the people and the party that was the only party and the only people to balance the budget in 40 years. I hate to break it to my Republican friends, but that is the Democratic Party. We are the ones who did it. We did it when Bill Clinton came into office. We did it after hard work. We did it after painful cuts. We did it with smart investments."
It has become part of the modern Democratic Party's provenance myth that Bill Clinton's presidency was characterized by minimal deficits, balanced budgets, peace, prosperity, and a general cultural renaissance. All of these glorious accomplishments – achieved single-handedly — were ignominiously undone by his successor.
Unfortunately, the facts do not comport with the attractive fable.
"Clinton's plan was never intended to achieve a balanced budget. After the bill's passage, the Congressional Budget Office estimated that the deficit would decline modestly — from $290 billion in 1992 to $200 billion in 1998," Kessler writes. "Between 1994 and 1999, realized capital gains nearly quadrupled, the CBO concluded, with taxes on those gains accounting for about 30 percent of the increased growth of individual income tax liabilities relative to the growth of GDP."
"Clinton was lucky to have become president just as a revolution in computer and information technologies was unleashed," he continued. The 42nd President of the United States was also lucky to preside over a Republican Congress after 1994 which, Kessler notes, "substantially shifted" the policy debate in Washington and "immediately set the goal of achieving a balanced budget within seven years."
Kessler's verdict: three Pinocchios.
Then there's this comment from the beginning of the month:
"Starting tomorrow everybody here, all the folks who are cleaning the floors at the Capitol. Now that Congress has left, somebody's going to be vacuuming and cleaning those floors and throwing out the garbage. They're going to have less pay. The janitors, the security guards, they just got a pay cut, and they've got to figure out how to manage that. That's real."
This irresponsible comment, delivered by the President of the United States and leader of the Democratic Party, Barack Obama, prompted a spokesperson from the Architect of the Capitol to issue a statement noting that the comments were flatly "not true."
"White House officials assumed there was an impact but they were not exactly sure themselves. We will also note that the president said the pay cut was happening "tomorrow," Kessler writes. "Obama's remarks continue the administration's pattern of overstating the potential impact of the sequester, which we have explored this week. But this error is particularly bad–and nerve-wracking to the janitors and security guards who were misled by the president's comments."
This comment earned the president four opprobrious Pinocchios.
This is just two examples from the Washington Post's fact checker blog from March alone.
The president's inaccurate and hyperbolic statements relating to the sequester have largely contributed to the failure of the Democratic Party to realize their goal of cornering Republicans and forcing them to acquiesce to another round of tax hikes. At the moment, the sequester fight appears today to be a stinging defeat for Democrats, largely due to the president's rhetorical overreach.
A number of MSNBC anchors and hosts did, in fact, mention Kessler's findings in this instance, including S.E. Cupp, Willie Geist, Andrea Mitchell and Chris Jansing. But if the criticism of Fox is that it does not regularly engage in Sista Souljah moments — castigating their own in order to maintain credibility — then this moment passed by MSNBC's hosts unexploited. The network's marquee hosts and opinion leaders neglected to use this event in the way O'Reilly did Bachmann's.
Kessler's post on Obama or Boxer's gaffes, and they were gaffes, would have made for a perfect opportunity for the nation's premier cable news personalities on the left to pull an O'Reilly and criticize Obama for endangering the cause of liberalism with his careless comments. They neglected to do this.
This not to say that MSNBC's personalities never go off the reservation — it has been known to occur. But this particular episode, criticizing Bill O'Reilly for not attacking lawmakers on his side of the political aisle while praising him for doing just that, is simply too rich.
Instead of attacking Fox for not making a point of regularly skewering the Republican Party's most perplexing figures, some of MSNBC's host should try it out for themselves.
> >Follow Noah Rothman (@NoahCRothman) on Twitter
Have a tip we should know? tips@mediaite.com