MSNBC Panel Presses Earnest: Shouldn't You Stop Calling Yemen a Success Story?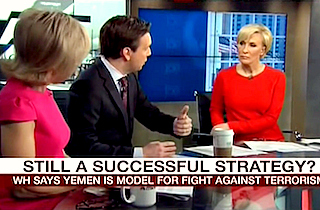 Morning Joe cohost Mika Brzezinski and NBC News White House correspondent Chris Jansing challenged White House Press Secretary Josh Earnest Thursday morning to defend the Obama administration's position that Yemen is still a counterterrorism success story, even as the country implodes.
"Should we dial back on the words that it is a success story, when you have the president fleeing on a boat?" Brzezinski asked.
Earnest argued that the structural integrity of Yemen's government was never the U.S.'s goal, so much as keeping Yemen from being a safe haven for terror groups. To the extent that the first is necessary for the second, Earnest said, the U.S. obviously regretted the collapse of that government.
"But the fact is that even though U.S. personnel is no longer in Yemen, the United States continues to have the capacity and resources and reach to be able to take strikes when necessary against extremists operating there," Earnest said.
"How, when you have the embassy closed, Americans have left, you have the parliament that has been dissolved, you have the president fleeing on a boat, maybe towards Djibouti, you have so many less possibilities for intelligence on the ground — how can you say that we are still in a counter-terror situation there?" Jansing asked.
"We do continue to be in touch with some elements of the Yemeni government," Earnest said. "Obviously, that effort at security cooperation is not as robust and as successful as it would otherwise be if the Yemeni government were stable. …But the United States continues to have resources in the broader region that we can use to strike terrorists if necessary, and the president has indicated a commitment to using those resources to keep the American people safe."
This is the second harsh round of questioning Earnest has faced over the issue, after ABC News' Jon Karl called his continued defense of the situation there "astounding" at the White House press briefing yesterday.
Watch the clip below, via MSNBC:
[Image via screengrab]
——
>> Follow Evan McMurry (@evanmcmurry) on Twitter
Have a tip we should know? tips@mediaite.com