MSNBC Panel: Romney Using Obama's 'Revenge' Comment On Trail Is Act Of Desperation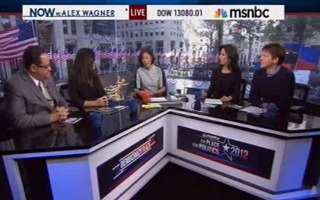 MSNBC's NOW panel guests agreed on Monday that Mitt Romney's campaign is flailing and desperate heading into the final hours before Election Day. The panel guests cited Romney's attacking President Barack Obama for telling voters "voting is the best revenge" on the trail as one example of this desperation. Others include Romney and vice presidential candidate Paul Ryan invoking their religion. The panel guests said that the Romney camp is injecting social issues into the race at this late stage because they are losing on the economy as indications mount that the recovery is picking up pace, and Hurricane Sandy brought with it a collectivist impulse which has advanced the president's pro-government message.

After noting that the ways in which the Romney campaign has leveraged Obama's "revenge" comment on the trail, host Alex Wagner said she saw this latest tactic as the last act of a flailing campaign.
"To me, that smacks of desperation," Wagner said. "Does anybody really believe the president is a vengeful character at all on the national stage? And, more importantly, is this the closing argument you want to make going into Tuesday?"
"I think they're just, sort of, pushing an anger point – seeing if they can just get one bit more of an edge with turning out their base voters," said Atlantic editor Grance Franke-Ruta.
Georgetown University Professor Michael Eric Dyson was asked about Rep. Ryan invoking his faith on the campaign trail and attacking Obama for undermining the "Judeo-Christian values" of the nation. He said that such a tactic was both baseless and insulting. "At least have enough graciousness to acknowledge that the other guy might have some religion," Dyson said.
"If you're Mitt Romney right now, you're wondering what it's going to take," said New York Times reporter Hugo Lindgren. "It speaks to the lack of a consistent strategy"
"I think going to social issues is interesting because they've been losing on the economy," interjected TIME Magazine reporter Rana Foroohar. "Last Friday's jobs numbers came in very good – we now have four months of strong growth – so that card is gone."
"Sandy really gave the president a leg up," Foroohar added. "Showing that, hey, there is a role for government. Hey, we need to help each other. I think that strengthens the president's position."
"Maybe God sent that storm," Dyson joked.
Watch the clip below via MSNBC:
> >Follow Noah Rothman (@Noah_C_Rothman) on Twitter
Have a tip we should know? [email protected]