MSNBC Panel Shockingly Defends Hagel's Anti-Gay Comments: 'It Was A Different Time'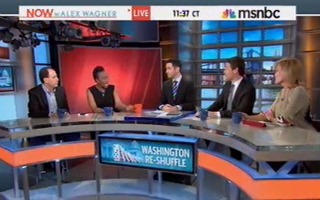 No sooner was former Sen. Chuck Hagel (R-NE) floated as a possible nominee to become President Barack Obama's next Secretary of Defense than did his critics on both the right and the left emerge to strongly oppose his nomination. Conservatives on the right are concerned about Hagel's anti-interventionist views and opposition to sanctions on Iran, while his critics on the left have raised red flags about his 1998 opposition to an ambassadorial nominee on the grounds that he was "aggressively gay." On Wednesday, the panel guests on MSNBC's Now defended Hagel on all fronts – from his foreign policy views to his anti-gay comments.

RELATED: This Is The Guy Chuck Hagel Didn't Want To Be An Ambassador Because He Was 'Aggressively Gay'
Columnist for The Nation and fill-in host of Now, Ari Melber, said he thought Hagel could become the single biggest reformer of American defense policy as the next Secretary of Defense since Harold Brown, Secretary of Defense under President Jimmy Carter.
"We're talking about someone who — objectionable comments aside or not, the Senate can consider it – someone who would be a change agent, and why won't the president fight for that," Melber asked his panel guests.
"His only truly objectionable comment was his comment on the gay community, which he made about one person who has forgiven him," said managing editor of The Grio, Joy Reid.
"And how long ago," laughed author Catherine Crier.
"Two years after Bill Clinton signed [DOMA]," replied New York Times reporter Nick Confessore. "It was a very different time in gay rights."
"Exactly," Reid agreed.
Considering how emphatically the panel guests of Now attacked Mitt Romney back in May of this year for a poorly sourced report that claimed he and other students had forcefully cut the hair of a fellow classmate who turned out to be gay later in life, one could conclude that MSNBC's dismissal of Hagel's anti-gay statements are the benefits of his riding a White House trial balloon. After all, if 1998 was a "different time" in gay rights, 1965 is the gay rights equivalent of the pleistocene era.
But all sins are washed away in the glow of the Obama administration's approval. Even the bigoted comments of a former Republican office holder. It's a Christmas miracle.
Watch the clip below via MSNBC:
> >Follow Noah Rothman (@Noah_C_Rothman) on Twitter
Have a tip we should know? tips@mediaite.com