MSNBC Panel: 'The Tea Partiers Basically Lost' and 'The Counter-Revolution Has Arrived'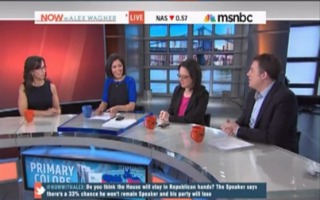 The following objective asininity and wishful thinking is being presented to you without commentary… Starting now:
On Tuesday, an MSNBC panel on Now With Alex Wagner attacked tea party representatives in Congress. Buzzfeed editor and former Politico editor Ben Smith called many tea party representatives "flotsam" that "had no business being elected." He said the "counter-revolution has arrived" and cautioned political observers to "enjoy Rep. Allen West (R-FL) while you got him."

RELATED: S.E. Cupp And Alex Wagner Agree: As VP Picks Go, Sen. Rob Portman Is 'Unexciting'
Wagner opened the segment describing the "hilarious" position the tea party is now in as incumbents and read a portion of a statement from Republican National Committee General Counsel Bill Crocker in which he warns Republican voters not to "burn the barn down to get rid of the rats."
"Kind of an amazing statement coming from someone in the tea party," said Wagner. "They are running as incumbents. They got nothing done. What's their excuse for getting reelected?"
"The real issue for the tea party is that the counter-revolution has arrived," responded Smith. He says that the lack of success by tea party candidates in the Republican presidential primary suggest that the spirit that motivated the anti-incumbent wave election in 2010 has abated.
"The tea partiers basically lost the struggle in the Republican presidential primary," Smith continued. "They're stuck with their nightmare of a candidate."
Wagner played a clip of House Majority Leader Rep. John Boehner (R-OH) conceding in an interview with Fox that will air on Tuesday that there is a "one-in-three chance" that the GOP could lose the House in November. "That is a bit of a change," said Wagner.
Politico reporter Maggie Haberman said that she was skeptical of just how candid this assessment of Republican's electoral chances was from Boehner. She said that this could be a "front in terms of fundraising." She did say, however, that there is a concern that the base will not turn out in November to vote for Romney which may impact down-ballot Republicans.
"There's sort of a flotsam in any wave election, where people who really had not business getting elected wind up for one term in office," Smith interjected. "Enjoy Allen West while you got him."
The MSNBC panel speculated briefly about how the 113th Congress would operate after both chambers are again managed by Democratic majorities.
… Okay, almost without commentary. A hat tip goes to Haberman who alone provided genuine political analysis and tea leaf reading in this panel discussion. All else was blind partisanship which does little good to MSNBC's viewers. It cannot be said to be informative — it is not. Merely provocative with a dollop of progressive cheerleading. Is this not what Democratic partisans chide right-wing talk radio hosts for?
A quick perusal of generic congressional ballot polls ahead of 2012 shows that the House is likely to remain in GOP hands. Even the GOP's chances of taking the Senate, briefly imperiled after Sen. Olympia Snowe (R-ME) announced she would not seek reeleciton, has recovered.
Did Mr. Smith describe comedian-turned-senator Al Franken (D-MN) as "flotsam" when he narrowly washed up in the upper chamber amidst a second consecutive pro-Democratic wave election? It is doubtful he or MSNBC would have described one-term House member Rep. Alan Grayson (D-FL) in such a dismissive way. How about former Rep. Phil "I-Don't-Worry-About-The-Constitution-It-Doesn't-Matter-To-Me" Hare (D-IL), swept into office in an anti-GOP wave in 2006 only to be swept out by an apparently undeserving tea partier in the last cycle?
Perhaps Mr. Smith should return to amassing photographs of politicians for a series of provocative top ten lists rather than provide MSNBC with this — what evidently passes for political "analysis."
Watch the segment below via MSNBC:
Have a tip we should know? tips@mediaite.com