MSNBC Panelist Rips Dems On Guns, Invokes Bombing: Americans 'Less Afraid Of Terrorism…Than You Are Of The NRA'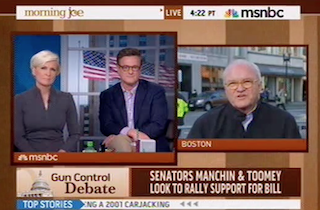 On Wednesday, Joe Scarborough picked up where he left off with the gun debate. Focusing on Democrats this time around, Scarborough called them out for their lack of courage on the issue when the polling shows support for background checks. The roundtable largely agreed with him — especially Mike Barnicle, who contrasted Americans' resilience, citing the Boston Marathon bombing, with Democrats' fear of the NRA.
As Steve Schmidt pointed to our politics of "fearfulness," and to the "only interest group that has such power over life and death," the roundtable sought to specifically single out those senators opposing the background checks legislation.
Supporting this bill is not only the right thing to do, Scarborough pressed, but the right thing to do politically as well. To that point, David Axelrod argued that many "believe that there is greater risk in defying the NRA than there is in defying "the will of the majority."
Scarborough then turned to Barnicle, who was in Boston, asking about those "cowering" Democratic senators.
"Less than 48 hours ago, four blocks from where I sit right now, two devices were exploded. It's terrorism," Barnicle said. "The intent of terrorism is to make people fearful, to make Americans fearful to gather, to assembly, to go to ballgames — and to stay home and coward in their homes."
"How is it, senator," he continued, "that Americans do not do this — that Bostonians, New Yorkers, we do not do this? We get up, we walk ahead, onward through the day. How is it that we are less afraid of terrorism on our streets than you are of the NRA?"
Take a look, via MSNBC:

Have a tip we should know? tips@mediaite.com