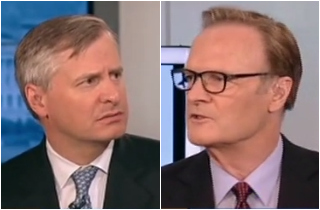 On Morning Joe Wednesday morning, Time contributing editor Jon Meacham said it was "good news" that President Barack Obama failed to convince fellow Democrats to support Syrian intervention, but argued, along with MSNBC host Lawrence O'Donnell, that it would not harm his efficacy on domestic policy.
"It's good news that that was an unmoving argument," Meacham said. "We should not projecting force into the most volatile of regions, where we've learned hard lessons in humility—"
"Good news if are the country, not good news for a president who can't put the hammer down," host Joe Scarborough interrupted. "I've never seen it on Capitol Hill, where a president's reputation is on the line internationally, and you go to members of your own party—we've all heard those arms breaking, and usually they go okay."
Meacham disagreed with this analysis.
"Let's think about 1990-91, which now lives in glowing memory," he said. "54-46 for George H. W. Bush. Intense debate in his own party. Some senators went to him and said if this goes badly, you will be in deep, deep trouble, not just in credibility, but maybe constitutionally. We have intense debates about the projection of force. We should have these debates, because it is so important. I think the president has put himself in an incredibly difficult situation. He has made it more difficult for himself politically. But last night, under the circumstances, he did the best he could."
O'Donnell backed Meacham up.
"On this credibility thing and the effect on domestic politics, let's remember that George H. W. Bush got the highest recorded approval rating by a president in the history of polling after he went in and pushed Saddam out of Kuwait in record time," O'Donnell said. "He then went on to be defeated by Bill Clinton, months later, in effect. The translatability of 'I did this in foreign policy, therefore I want this in domestic policy' simply isn't there."
Watch the full clip, via MSNBC:
[Image via screengrab]
——
>> Follow Evan McMurry (@evanmcmurry) on Twitter
Have a tip we should know? tips@mediaite.com