MSNBC Panel's Backhanded Compliments For George W. Bush's Paintings: 'Best Thing He Ever Did'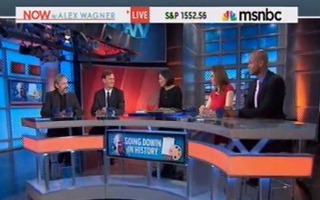 The panel guests of MSNBC's Now on Monday took on the recently released paintings of President George W. Bush. Many of the guests cautiously praised some of Bush's works while taking subtle jabs at the president's legacy and ability to perform in office. MSNBC host Alex Wagner wondered how the nation would look to today if Bush had opted to pursue painting and baseball instead of politics.

RELATED: Bush Family Emails Hacked, Exposing Photos And Personal Information
"The ones you're showing look like greeting cards," said The New Yorker's Rick Hertzberg. "The ones that are in the artist category, even – because the dogs aren't really art exactly… the paintings that he did of himself in the bath, those are the ones that are just rivetingly interesting."
"These go way beyond other presidential paintings," Hertzberg continued. "Here is Bush painting something that's revealing, that's daring."
"If only George Bush — I said this during the break but I'm going to say it again on air — had stuck to the painting and the baseball, and the path of the country could have been so radically different," observed Wagner.
"I want him clothed and I like the choo-choo train, Conductor Spock that I saw there," mocked President Barack Obama's former National Security Council spokesman Tommy Vietor. "Six hours, that's a lot of time to put into anything. Good for him."
"When did Bush ever put six straight hours into anything?" Hertzberg asked, firing up his fellow panel guests.
"This may be his magnum opus," Wagner added. "I'm on the record as saying they're good. Best thing he ever did."
Watch the clip below via MSNBC:
> >Follow Noah Rothman (@NoahCRothman) on Twitter
Have a tip we should know? tips@mediaite.com