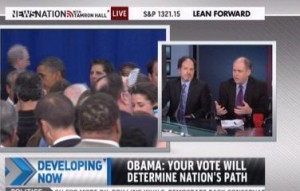 President Barack Obama delivered a campaign speech on Thursday that was billed as an effort to refocus on the economy and to frame the debate against Republican presidential nominee Mitt Romney moving forward. But a panel of liberal commentators on MSNBC reacting to the speech unanimously felt the President had wasted the opportunity to truly make an impact on the race.

RELATED:MSNBC's Most Influential Show Is Still Run By A Staunch Conservative
"I thought this, honestly, was one of the least successful speeches I've seen Barack Obama give in several years," said Newsweek editor Jonathan Alter. "It was long winded. He had a good argument to make, and at the beginning of the speech he seemed to be making it in a fairly compelling way but then he lost the thread."
Alter said he thought the speech was "way too long" and Obama had "lost the audience by the end."
Daily Beast columnist and economist Zachary Karabell agreed with Alter, saying that the President opened the speech well, but quickly lost the plot.
When he went, sort of, away from offense and on to defense, 'what we've done and what we're going to do,' it became unbelievably diffuse and, in some sense purely as a political phenomenon it was very ineffective in that respect because it very well characterized the opponents as 'this is not going to work' but it didn't really give you the sense of what will.
MSNBC anchor Tamron Hall attempted to clarify the President's points for her panelists, seeing that the conversation was rapidly spiraling into pointedly off-message territory. Hall said that Obama made a key point that a Romney administration will rely on a more laissez faire approach to tax policy which, in her opinion, would hurt the middle class.
"His point was, that's exactly what the person who wants to take my job now will do. That's what you can bet on," said Hall.
"And that's a powerful argument to make," said Alter.
"It is," Hall added.
"It didn't work in 2010," Alter added. "But it can work, properly framed, in 2012."
One might look at this rebuke of President Obama's much ballyhooed speech by his progressive supporters in two ways:
The first, that Obama's speech was a spectacular success. Why? Well, the President has spent much of the campaign season – nay, all of it – appealing to his Democratic base. He has proposed policy after policy that have no potential to pass Congress with the express intention of establishing a campaign platform.
When he is not laying the groundwork for a legislative platform to campaign on, Obama has blocked initiatives with broad, bipartisan support like the Keystone XL pipeline. All this to to elevate his standing among deflated liberals. That Alter and Karabell are so disenchanted with this speech in particular may mean that Obama struck a note with independents and tacked towards the center.
But I did not see that in Obama's speech. So, I'm leaning more towards door number two: Obama's speech was an unmitigated flop.
This would not matter so much if it wasn't for days of breathless hype surrounding this speech. It was promoted as though it would be the singular moment that would demarcate a before and after in the 2012 campaign. But in the end, it was just another speech — and not even a good one.
Romney's speech, delivered in the same state minutes prior to Obama, was nothing to write home about either. But his speech was not billed as anything more than a pre-response to Obama. There were no expectations to not meet.
Obama's team, however, set the bar high. But in the eyes of his own supporters, Obama could not clear the hurdle they set.
The implications are broad. The President will have to continue talking to his base and ignoring the center of this country where elections are won and lost. This is bad news all around for the Chicago team.
UPDATE: Jonathan Alter appears to be taking heat for his insufficient support of Obama. Not long after his appearance on MSNBC, Alter tweeted this:
Just cheerleading BO doesn't help him. He needs a sharper, more cogent message with some memorable lines. I ain't walking my criticism back

— Jonathan Alter (@jonathanalter) June 14, 2012
Watch the segment below via MSNBC:
Follow Noah Rothman on Twitter
Have a tip we should know? tips@mediaite.com