MSNBC Pres. Defends Al Sharpton's Role In Trayvon Case: We Didn't Hire Him To Be 'Neutered' News Presenter
MSNBC Pres. Defends Al Sharpton's Role In Trayvon Case...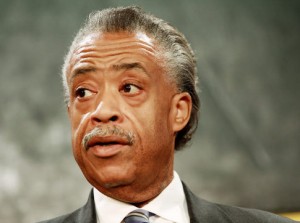 Last weekend, CNN's Howard Kurtz took issue with the dual role Rev. Al Sharpton is playing in the Trayvon Martin case. While he is an MSNBC anchor, Sharpton has also been an activist who "has claimed a starring role in the Trayvon Martin case." On a Reliable Sources segment, and then in a Daily Beast piece, Kurtz said even commentators have rules to abide by, but Sharpton has "obliterated" any such boundaries. In a recent Associated Press piece that tackled the same topic, MSNBC head Phil Griffin openly stated, "We didn't hire Al to become a neutered kind of news presenter."
RELATED: CNN's Howard Kurtz On Trayvon Martin: How Can MSNBC Allow Al Sharpton To Cover This?
Discussing Sharpton's activism before and after his 6 p.m. show, Kurtz wrote, "It seems to me that by sandwiching his show between his activism, Sharpton was essentially covering himself." He continued:
In what other context would a news organization allow someone to become such an integral part of the story and then represent the organization? Shouldn't Sharpton have to choose between his dual roles? Would it be okay if he attended a rally for President Obama, asked the crowd for money and then interviewed Obama immediately afterward?
On Reliable Sources, Kurtz spoke to Eric Deggans, media critic for the Tampa Bay Times, who expressed a similar sentiment. "He has a side," Deggans said. "Is he going to feel like he can talk to NBC News or MSNBC and be treated fairly when one of their signature on-air personalities has spent weeks talking about how he should be arrested and he should be in jail?"
Griffin told the AP he sees no such conflict. Sharpton wasn't hired to be a "neutered kind of news presenter," he said. From the AP:
Griffin, talking before Monday's show, said he hadn't seen any conflict with Sharpton's role on and off the air in the Martin case. He said Sharpton had fulfilled his requirement to honest and upfront about his activities, and credited "PoliticsNation" with helping to make it a national story.
Kelly McBride, ethics group leader at the Poynter Institute, said, "It certainly represents a change in our traditional view of the boundaries between journalism and activism." While it's not without its problems, she said, "it's certainly the way we are moving in the journalism industry."
Have a tip we should know? tips@mediaite.com