MSNBC President Phil Griffin Deems Chris Matthews A 'Statesman': He's 'The Model Figure For Who We Are'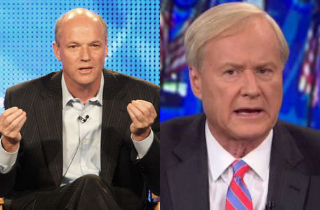 MSNBC host Chris Matthews is a "statesman," according to the network's president, Phil Griffin. In a recent Associated Press story, Griffin praises the always impassioned anchor for being a "model figure" for the network.
RELATED: Chris Matthews: If I'd Been A Politician, 'I Would Be One Of The Stars Of The Democratic Party'
Griffin expressed confidence in Matthews' style and where he is now.
"He's as good as he's ever been," Griffin told the AP. "He's at a place in his life where he's really comfortable in his own skin. He's a statesman. He has so much knowledge and I think he understands it better. He's always been great, but I really think he's been at the peak of his game."
This year Matthews' show, Hardball, has been a 24 percent jump in viewership since 2011, the article notes (of course that includes significantly increased ratings leading up to the election). During the presidential campaign, Matthews raised his profile — and he's "symbolized MSNBC's growing comfort in being a liberal alternative to Fox News Channel."
And conservatives took note: "With Keith Olbermann out of sight, Matthews essentially replaced him as the commentator that most annoyed conservative viewers."
Yet he seems to be precisely what Griffin is looking for:
"He is sort of the model figure for who we are," Griffin said. "He doesn't stick out loving politics and being passionate about politics. It comes across in everything we do … And that's Chris."
Matthews himself noted that his editorializing has become a focus of his show. Speaking of political opinions, the MSNBC host also responded to his past interest in exploring a run. Indeed, he'd said that if he ran and won, he "would be one of the stars of the Democratic Party."
So why did he pass on the chance?
"I never want to do what everybody else is doing," Matthews said. "I don't want to be part of the chorus."
(h/t AP)
Have a tip we should know? tips@mediaite.com