MSNBC President Phil Griffin On What Sets The Network Apart: 'It's Depth. We Own It!'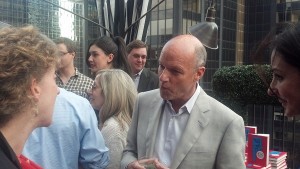 On Thursday night, MSNBC President Phil Griffin held an event celebrating the release of Up with Chris Hayes host Chris Hayes' new book, Twilight Of The Elites: America After Meritocracy (available at all fine book retailers June 12). After several hours of celebrating, I snagged Griffin as he waited for the elevator, and asked him to talk about the man of the hour. He needed no prodding, expressing his admiration for Hayes and his show, and bragging like a prizefighter trash-talking at a weigh-in, and concluding that, with MSNBC, "It's depth. We own it! And Chris Hayes is at the center of it."
From our interview, you might get the idea that Griffin was caught up in the mood of the evening, but his enthusiasm for Up with Chris Hayes hasbeen at an eleven from day one. The pride that Griffin takes in the network was also evident among the other MSNBC producers and staff I spoke with, as well.
Griffin began by praising Hayes as a "big thinker" who brings depth to his book and TV show. "It is beyond right/left," he said. "It is what we call 'post-broadcast.' It's this idea of getting to the root of things."
"There was always a fear that television didn't allow for depth and real understanding. Chris Hayes has challenged that," Phil continued. "That two hours on Saturday morning is so powerful, because he goes deep into topics. Listen, it's niche, and it's small, but I'm going to tell you something, it's powerful."
I asked Griffin about the numbers for the show, and he said "Oh my God, it's unbelievable," adding that "ratings are up," but was really impressed with the level of engagement online. According  to EP Jonathan Larsen, the average length of visit at Up's online clips is about 40 minutes, by far the best.
"Clearly, you're a big fan of the show…" I began.
"I love it!" Griffin gushed. "I can't tell you how impressive it is. Y'know, MSNBC is a better place because of Chris Hayes. It's about depth, it's about analysis. That's what we are. In a world where, you know, a 140 character Twitter explosion…what's the rebound to that? It's depth. We own it! Nobody else is doing that we're doing. And Chris Hayes is at the center of it."
Follow Tommy Christopher (@TommyXtopher) on Twitter.
Have a tip we should know? tips@mediaite.com