MSNBC President Says Lean Forward Campaign Is About "Trying To Find Solutions"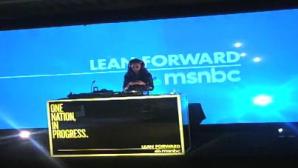 MSNBC threw a party Thursday night at 7 World Trade Center to celebrate the launch of their new Lean Forward campaign.
It was very Lean Forward-centric – from T-shirts being printed off to one side with various slogans like "The Future Belongs to the Fearless" to nearby buildings illuminated with images from the campaign.
Just about every MSNBC on-air personality not on prime time was in attendance, as well as NBCU CEO Jeff Zucker, NBC News President Steve Capus and MSNBC President Phil Griffin. As journalists and NBC employees mingled about the large open space with spectacular views of downtown Manhattan, videos played on screens showing the MSNBC campaign taken on the road – previewing ads that could be coming, showing Lean Forward displayed around the country. And there was that constant supply of appetizers and shots being passed around.
"Lean Forward is who we are," said Griffin, who took the mic midway through the party. "We're so excited about this."
Griffin cited the Education Nation initiative recently as one that fits with the new direction of the network. Education Nation saw specials and segments air across many NBCU properties – but Griffin said he made a last-minute decision to air a town hall during prime time, citing that fact that "it fit the brand."
More from the speech:
Just think about what we're doing here. We do it every day with our prime time, we changed our daytime, we do it with Morning Joe. Ed's here, Chris Matthews just left, Chris Jansing's here and she's got two new hours. We can have a real sensibility. That's what Lean Forward's about. It's trying to find solutions.
And then, as his brief remarks wound down, he urged, "I want you to have a great time tonight. This party is not over. You're required to get a shot of tequila right now."
Hey – he's the boss.
There's little doubt that cable news viewers, and non-viewers alike, will be bombarded with Lean Forward advertising and marketing in various mediums. But as the campaign continues, what exactly will it be? How will it "find solutions" as Griffin promises?
Check out this video of the evening, put together by TVNewser:


• Bonus blind item: Which MSNBC host/anchor, upon seeing Joe Scarborough and Mika Brzezinski enter, sardonically said, "Oh look, the stars are here."
—–
» Follow Steve Krakauer on Twitter
Have a tip we should know? tips@mediaite.com