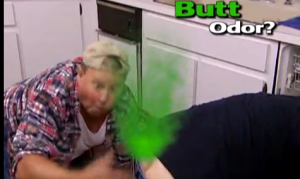 When MSNBC finally got around to watching the ad they had been running for Doc Bottom's Aspray — the "1st ever all over deodorant" which boasts eliminating "beastly butt odor" among other stenches — they were horrified and reportedly pulled the spot immediately. But regardless of its airtime, the cheesy commercial for spray-on odor killer has served its purpose, not only creating buzz for the new product (people are "absolutely buying"), but also scoring a profile in the Washington Post. The controversial TV spot, which stars Aspray inventor and pitchman Adam Jay Geisinger as the pushy peddler, has taken off on YouTube, totaling over 300,000 hits in its first month.
The Post story places Aspray in the informercial canon alongside legendarily bad commercials like the perverted Tiddy Bear, HeadOn's tone-deaf repetition ("Apply directly to the forehead!") and the oeuvre of the late Billy Mays. But it also delves into the psychology of these ads with expert commentary from Sam Catanese, president of the Infomercial Monitoring Service Corp., who says, "Campy stuff works, goofy stuff works. . . . If it's like, 'Uh-oh, oh no they didn't!' and it stops you in your tracks, then they've gotten your attention."
Catanese calls these nuggets of TV gold "bottom-feeder" ads, but he got us thinking about a few of our favorite low-budget, barely functional product plugs.
Doc Bottom's Aspray
The inspiration for this list must be seen in its entirety. Pay special attention to the lo-fi neon green gas that represents stink all over.
Slap Chop
Never mind slimy pitchman Vince Shlomi's legal problems (he's charged with beating up a prostitute in Miami), but respect his enthusiasm for this dicer and "stop having a boring life." Please don't forget the remix.


Loud 'n Clear
This budget-level hearing aid disguised as a cell phone headset enhances bingo, card games and church, but doubles as a spy device. Watch as an innocent looking woman eavesdrops on her neighbors! If only this bulky ear contraption was a bit more inconspicuous…


Cheers To You!
Feeling down on yourself? Pop in this eight track CD and revel in the cheering crowd and vacuous inspirational talk.


ShamWow!
Sure, it's the second Vince Shlomi entry in this list, but the man's power of persuasion is irrefutable. We could almost see placing an order for this oddly practical super-absorbent rag.


Snuggie
Ah, what else can we say about the storied blanket with sleeves? We know it doubles a warm garment and cult uniform, and we've been over its epitomization of American laziness, but the commercial just never gets old!


Have a tip we should know? tips@mediaite.com