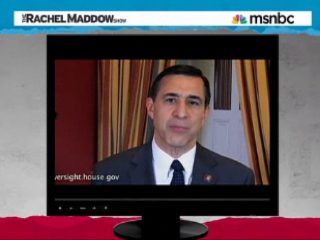 The various egos that crowd the halls of Congress often make for wonderful, snippy cable news analysis. Case in point: last night's Rachel Maddow Show, where fill-in host Chris Hayes took a look at Republican House Oversight Committee Chair Darrell Issa's latest attempt at using social media, and took it upon himself to recreate the aesthetic of his latest online video. The music, at least, is relaxing.
As Hayes explains, Issa is neither the first nor last Congressman interested in the spotlight (though, absent Sen. Chuck Schumer, Hayes declined to name any Democratic Congresspeople who coveted it so). Michele Bachmann, who plans to respond to the President's State of the Union address next week personally, received honorable mention and, of course, Rep. Issa, aka "Terry Transparency," got to the top of the list, having just released a new video explaining what the Oversight Committee was working on these days. Hayes, of course, did not get to the video before airing Issa's stint as the voice of a car alarm, and noting other claims to fame (including having his spokesman pass off as himself to Howard Kurtz).
Hayes did not really bother to debate the content of his new video– the segment was, after all, about publicity hounds, not about policy– but couldn't help get over the production value. The video was not, Hayes explains, "made on an elevator or a cruise ship in 1993," and Issa "does not even want to sell you a car alarm… he is trying to sell Darrell Issa." Hayes then intersperses himself with clips from the video, with the delightful adult contemporary soundtrack and microphone echo of the original.
Hayes' rebuttal to Rep. Issa's new "look and feel," via MSNBC, below:

Have a tip we should know? tips@mediaite.com