MSNBC Reports Satire Of Gay Marriage Opponents As Fact, Thomas Roberts Apologizes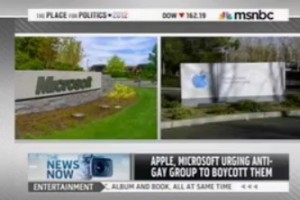 On Wednesday's MSNBC Live, anchor Thomas Roberts reported that Apple and Microsoft were "marrying up, asking the National Organization for Marriage, and its supporters, to boycott their companies" in response to a leaked NOM memo that detailed a strategy to divide gay people and black people.
The leaked memo was real; the boycott request was not. An unamused Roberts apologized on air today, noting that the item was based on a Huffington Post satire piece.
The premise of the HuffPo piece was simple: that the National Organization for Marriage, which has led anti-marriage equality initiatives like California's Proposition 8, is so poisonous, so repugnant, that a boycott by its membership would actually be a case of addition by subtraction for corporations like Apple and Microsoft. It mixed real statements and facts about the companies with fake corporate statements like this:
So what gives? The National Organization for Marriage singles out Starbucks, and those yuppie bean heads get all the attention? We have to read in the Seattle Stranger how "[t]here has been an incredible Facebook campaign of photos of people drinking coffee at Starbucks." Where are all the photos of happy people tapping away on Windows machines knowing that they, too, are supporting equality for all? What about us? We've even got a rainbow in our logo. Boycott us, National Organization for Marriage! Now!
…and this:
Though Apple's stock is doing very well, we still are a little envious that Starbucks' stock shot up $1.41 the day after the announcement of the National Organization for Marriage's boycott, and it continues to rise. We all appreciate a stock bump.
It was a clever (if not all that funny) bit of satire that, perhaps, went on a bit too long, especially since MSNBC seems to have missed this disclaimer at the end of the piece:
NOTE: This piece is satirical. All quotations are fabrications for the purpose of satire.
In his brief apology today, Roberts noted the disclaimer, and added, "We take issues of equality seriously, not as satire. It was my error."
Roberts didn't seem to approve of the satire, but maybe reverse-boycotts like this are an idea whose time has come. Wouldn't it be great if there was a competitive market for doing the right thing?
Here's the original clip, from March 4, and Roberts' apology, from today's MSNBC Live:
Have a tip we should know? tips@mediaite.com