MSNBC Reports Todd Akin Staying In, Now Says He Was Talking About 'False Rapes'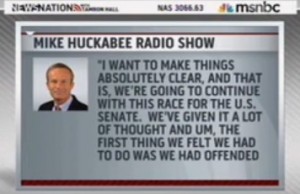 Embattled Republican Congressman Todd Akin (R-MO) is digging in, and digging his hole deeper, telling Mike Huckabee, on his radio show, that he has already decided not to exit the Missouri race for US Senate, and according to MSNBC, telling conservative radio host Dana Loesch that his comments about "legitimate rape" were meant to differentiate them from what he calls "false rapes," building on his prior explanation that he meant to say "forcible rape."
The Akin problem just gets worse and worse for the national Republicans, as the Missouri congressman continues to expose voters to the party's regressive attitudes and policies toward women. Already, Akin's comments about "legitimate rape" have become inextricably linked to vice-presidential nominee Paul Ryan's sponsorship of "forcible rape" language in federal abortion law, and now, Akin has cracked that code for voters by essentially revealing that lots of rape victims are just lying sluts.
On MSNBC a few minutes ago, Tamron Hall reported that Akin is staying in the race for US Senate in Missouri, and relayed Akin's comments to Dana Loesch, in which he explained that his "legitimate rape" comment was meant to refer to "false rapes."
While the Ryan/Romney ticket has tried to put some distance between themselves and Akin, both men have significant policy and political ties to the comments that got Akin in trouble, and not even a fast exit by the Missouri congressman will keep the press from asking them tough questions about reproductive freedom between now and Election Day. If Akin makes good on his promise to stay in the race, however, the resulting fallout could overshadow the Republican National Convention that begins next week, and shift attention away from Romney's economic message.
Have a tip we should know? tips@mediaite.com