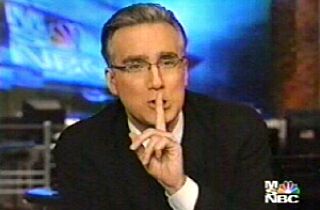 Late last year, as MSNBC bled primetime viewers, network chief Phil Griffin openly sought to "broaden" the channel's coverage, away from progressive commentary-heavy talk shows and back to human interest stories and hard news. Since then, multiple shows have been cancelled and jobs have been called into question.
Mediaite has learned that an MSNBC Town Hall meeting is scheduled for July 23 with returning NBC News president Andy Lack, and that many staffers are, quote, "freaking out." Why? Well, because the struggling cable net has to figure out how to overhaul its programming following two of its worst quarterly performances in recent memory.
According to multiple sources within the network, the biggest rumor to emerge is that MSNBC has engaged in talks with soon-to-be-departed ESPN2 host Keith Olbermann about returning to the cable network's primetime lineup. Olbermann previously hosted Countdown from 2003 until 2011, and was an immensely controversial figure for the network, both internally and externally (2003 was a return to the network for Olbermann after a previously contentious run in the '90s as well). For myriad reasons, it would be a stunning turn of events if Olbermann came back, but one could certainly argue that right now they need each other more than ever.
But even a theoretical Olbermann return could suggest MSNBC's desire to get back into the fiery primetime wars, and also highlights the reality that several other shows are likely on the chopping block.
Multiple sources within the network tell us that several shows are at risk: All In with Chris Hayes, which currently runs at 8 p.m., opposite Fox's ratings titan in The O'Reilly Factor; PoliticsNation with Al Sharpton, which features the controversial host's commentary in the 6 p.m. hour; and The Ed Show, which was cancelled once before, moved to the weekend, and then revived at 5 p.m. on weekdays.
According to the sources, top officials are eyeing the cancellation of Hayes' nightly program after 27 months of lackluster ratings. The show was meant to replicate the success of similarly wonky, younger-demo-appealing Rachel Maddow, but continually failed to achieve ratings, especially while competing with Bill O'Reilly. Hayes would likely be offered a roving reporter role, similar to the one Ronan Farrow received following the cancellation of his show earlier this year.
Sharpton's show could be axed or more likely moved to the weekends — if he would accept that demotion — our sources say. Long considered untouchable because of the immense power and influence he wields, Sharpton has become something of a liability for the network seeking to shift away from its deeply left-wing image. Not to mention, his role in facilitating the NBC merger with Comcast has come under legal fire from black-owned media groups and questions that have been raised about his advocacy and tax bills.
Ed Schultz's show seems destined for change — whether it be cancellation or another weekend move — as it occasionally hits new lows in viewership and routinely finishes fourth in the key cable news demo of 25-to-54-year-olds. Although, in his defense, the lead-in he receives from Alex Wagner at 4 p.m. is usually anemic.
Which brings us to another key problem for MSNBC bigwigs: how to revive its daytime programming that sometimes loses to the ratings challenged Al Jazeera America in demo ratings and, some suggest, sets the poor performance tone for the primetime shows.
Under the leadership of current SVP Yvette Miley — a veteran of local and national news coverage — it would seem natural for MSNBC's daytime programming to shift towards hard and breaking news reporting. But the costs of doing so are prohibitive: Flourishing newsrooms like Fox and CNN require an expensive corral of camera crews, reporters, satellite and assignment desks, etc. — something MSNBC has comparatively lacked in recent years, seemingly by design. And Miley has been at the helm for six years with little success in that arena.
The bottom line, our sources tell us, is that MSNBC is "in flux," and people are "frustrated." Former Nightly News anchor and confessed embellisher Brian Williams is expected to debut on MSNBC soon, but no one knows when and in what exact capacity. Don't be shocked, one source suggests, if Williams eventually ends up with a primetime news show on the cable channel.
Who would've thought: MSNBC attempts to solve ratings woes by adding Brian Williams and Keith Olbermann, the men who used to host back-to-back programs on the network, circa 1997? Perhaps this recent tweet from Olbermann was more prescient than first thought.
— —
>> Follow Andrew Kirell (@AndrewKirell) on Twitter
Have a tip we should know? tips@mediaite.com